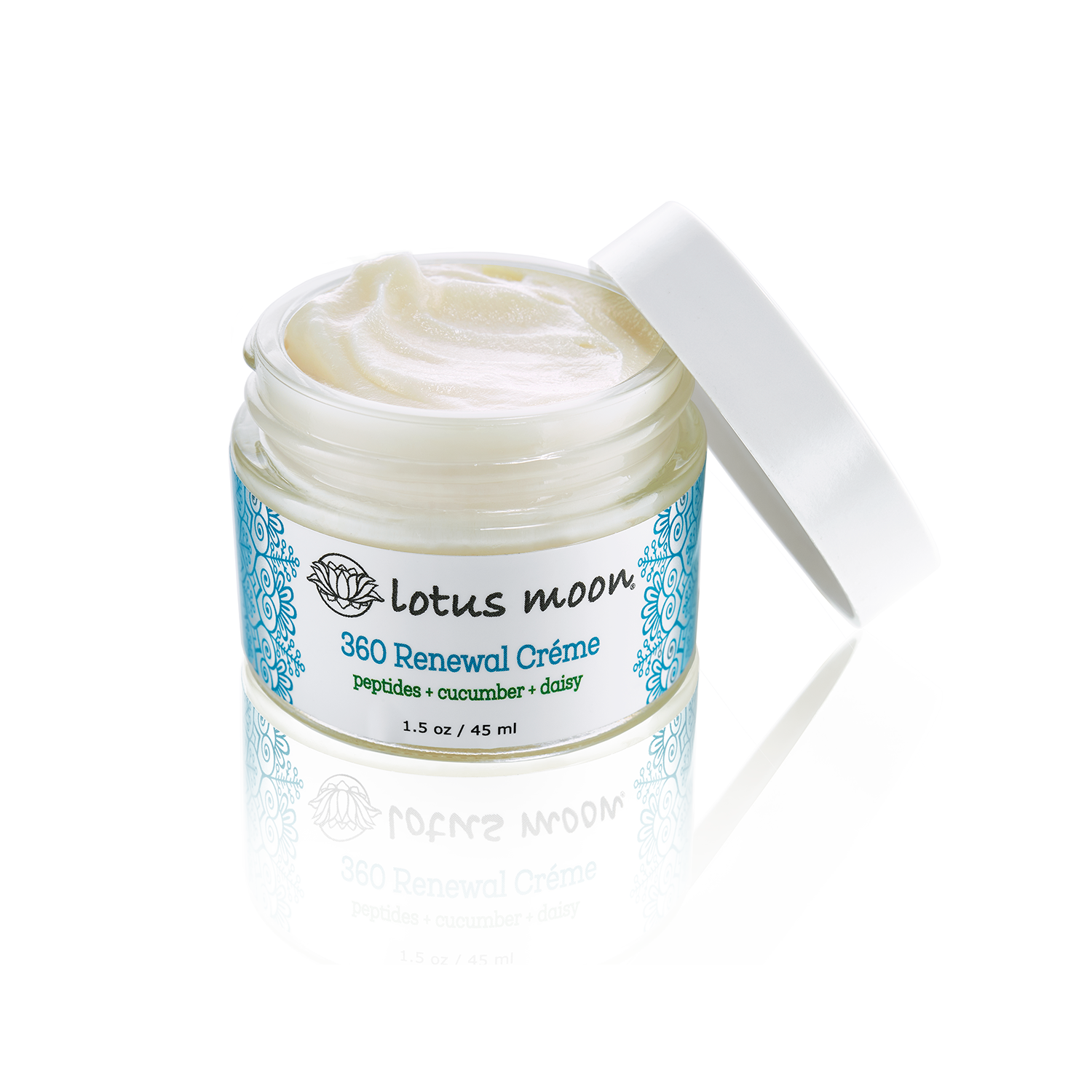 ⭐️⭐️⭐️⭐️⭐️ "I keep this stocked I love this Renewal Creme! I use this for my day routine before I apply the Hibiscus Moisturizer. I keep this in my skin care fridge and when I apply this the smell of the cucumbers and the coolness make me feel like I am at the spa! I have used this for about a month and already noticing my wrinkles on my forehead are less diminished and my eyes are much less puffy! Will re-buy for sure!" - Claire B.
Recommended for: Oily - Acneic - Redness
Features: 48% organic content; vegan

pH: 5.0
Size: 1.5 oz
360 Renewal moisturizer is specially formulated to treat oily skin and fine lines all at the same time. It behaves like a serum but applies like a moisturizer.
If your skin tends to be dry, then we suggest that you follow with a beauty oil.
DESCRIPTION

RITUAL

INGREDIENTS
This advanced peptide formula absorbs deep into the skin, where it works to fight wrinkles, fine lines, uneven skin tone and other signs of aging.
Lupine peptide protein, acmella oleracea and palmitoyl tripeptide-5 are powerful ingredients for treating collagen breakdown.
When applied to the skin, peptides act as a "messenger" telling the skin to produce more collagen. The goal of peptides is to increase the amount of collagen our cells produce or slow down the amount of collagen that gets broken down, with the ultimate goal being smoother, plumper, healthier skin.
SUPER STAR INGREDIENTS 

ELECTRIC DAISY EXTRACT (ACMELLA OLERACEA)
Native to Brazil and Peru, this flowering herb works to reduce fine lines and wrinkles by inhibiting muscle contractions and relaxing muscle tension beneath the skin.
Relieving subcutaneous muscle contractions of the face, greatly contributes to "expression lines" on aging skin.
Considered to provide instant Botox®‐like properties.
Limits micro contractions responsible for deep wrinkles,
smooths and refines skin texture,
and encourages relaxation of facial muscles.

CUCUMBER WATER
Cucumber has been long used for its cooling effects, inside and outside the body, reducing inflammation and speeding up repair for healthy-looking skin.
The high water content of cucumbers makes it hydrating - preventing dryness and wrinkling of skin, that can age the skin prematurely.
An excellent source of silica, a trace mineral needed for a healthy complexion.

HYALURONIC ACID
Provides optimal hydration for better skin penetration and effectiveness.

PALMITOYL TRIPEPTIDE-5
Palmitoyl Tripeptide-5 is made up of chains of amino acids and has the ability to penetrate the epidermis and enter deep into the dermis, where it stimulates collagen production and healthy tissue growth.
It not only encourages collagen synthesis in the skin, but early studies suggest that this peptide also has the ability to communicate with skin cells and prevent toxins that penetrate them from doing harm.
This peptide complex has been found to improve the appearance of any type of wrinkle.

LUPINE PROTEIN (PEPTIDES)
Derived from lupin flower protein, it works to prevent the break-down of collagen and elastin. These proteins work to prevent skin tissue breakdown following exposure to sunlight.
After cleansing and toning. Massage a dime-sized onto clean, moist skin. Follow with a moisturizer or facial oil (dry skin) or leave as is (oily skin).

Organic Aloe Leaf Juice (Aloe Barbadensis), Cucumber Fruit Water (Cucumis Sativus), Organic Shea Butter (Butyrospermum Parkii), Brassica Glycerides, Cetearyl Glucoside, Cetearyl Alcohol, Electric Daisy Extract (Acmella Oleracea), Organic Jojoba Seed Oil (Simmondsia Chinensis), Organic Pumpkin Seed Oil (Cucurbita Pepo), Organic Grapeseed Oil (Vitis Vinifera), Palmitoyl Tripeptide-5, Glycerin, Hydrolyzed Lupine Protein, DMAE Bitartrate (Dimethylaminoethanol Bitartrate), Caffeine, Hyaluronic Acid, Vitamin A Ester (Retinyl Palmitate), Xanthan Gum, Dehydroxanthan Gum, Caprylhydroxamic Acid, Glyceryl Caprylate.