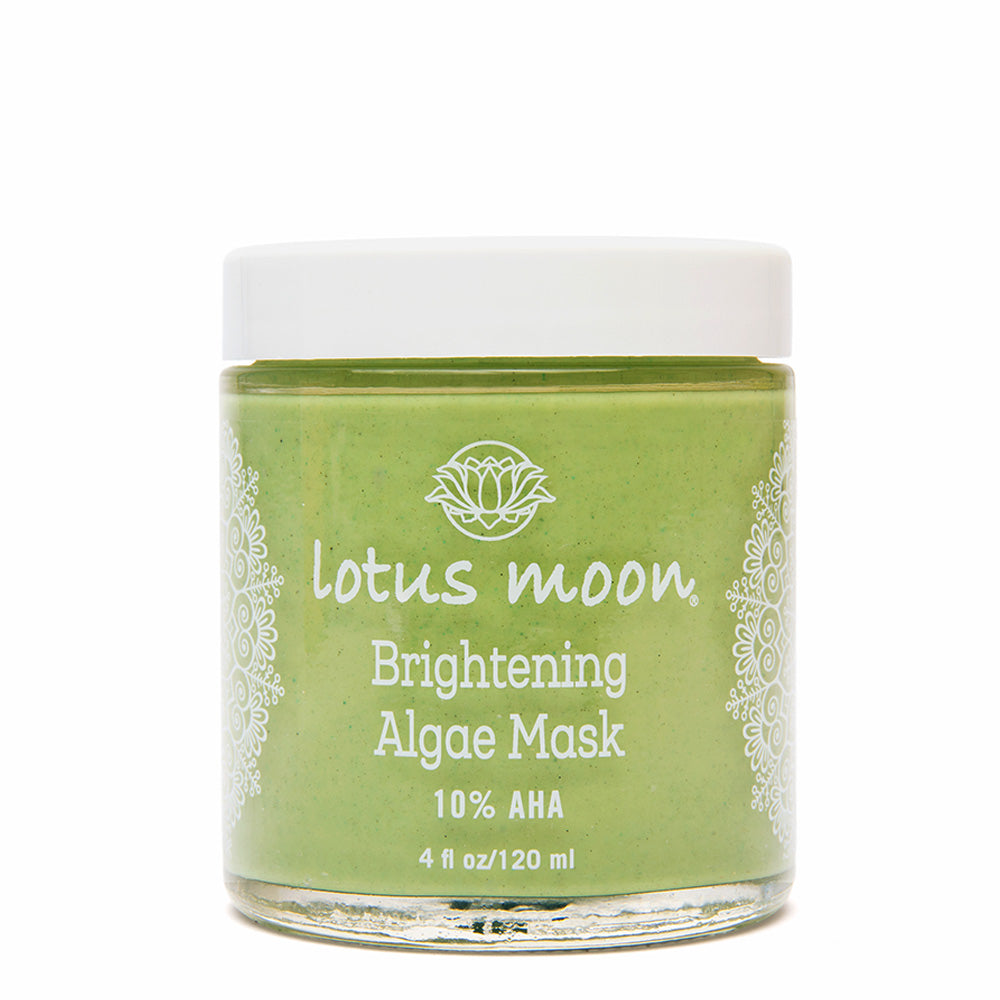 Are you looking for a lactic acid peel?
Is your skin looking a bit dull?
Brightening Algae Mask is a facial in a jar.
It nourishes skin and stimulates collagen production, bringing forth an immediate glow and a healthy complexion. It moisturizes while exfoliating revealing smooth, glowing skin in 5 minutes.
Using pure bioactive color extracts from flowers, barks, leaves, twigs and the roots of herbs, grasses and plants to give this mask its brilliant green color.
Skin Types: All/Mature/Dry
pH: 4.0 +/- 0.2
Features: plant-based, blue green algae, lactic acid
Applications: 20-30 treatments per jar
MORE INFO

HOW TO USE

INGREDIENTS
SUPER STAR INGREDIENTS
Blue Green + Seaweed Algae Extract - a wild harvested organic certified most nutrient rich and bio-active of all algaes which occurs in the remote area in the Oregon Cascade Mountains, in the Klamath Falls; is highly bio-available, and is the purest, most nutrient intact algae available in the world; crucial for collagen production and has an immediate smoothing effect by connecting to skin cells. contains amino acids and vitamins, especially Vitamin C, and B12, responsible for the formation of cells.
Alpha-hydroxy Acid -Lactic Acid – for their exfoliating, hydrating and brightening properties.
Aloe Vera Leaf Juice – contains almost 20 amino acids, minerals like calcium, magnesium and sodium in sufficient quantities, enzymes, vitamins, polysaccharides, nitrogen and other components that make it a miracle beauty herb; improves the skin's ability to hydrate itself;
Jojoba Oil - softens skin, and reduces trans epidermal water loss, providing the skin with suppleness and softness. Highly lubricating and anti-oxidative oil that mimics collagen, one of the best oils for providing a barrier to water loss on the skin.
Bioactive color extracts - Ivy Gourd Leaf, Eggplant Leaf, Basil Flower/Leaf, Turmeric Root
WHEN TO USE:
1-2 times weekly to clean skin and leave on skin up to 20 minutes before removing.
Apply an even layer to clean, dry skin.
Leave on skin for 5 to 10 minutes;
Remove with tepid water and soft white cloth or gauze. Follow with serum and moisturizer. Do not get in eyes; discontinue use if irritation occurs
*Aloe Vera (Aloe barbadensis) Juice, Lactic Acid (10%), Bentonite Clay, Baking Soda (Sodium Bicarbonate), *Shea (Butyrospermun parkii) Butter, Cetearyl Alcohol, Cetearyl Glucoside, Brassica Glycerides, *Jojoba (Simmondsia chinensis) Oil, *Alcohol, *Seaweed (Fucus vesiculosus), *Blue Green Algae (Aphanizomenon flos-aquae), Violet (Viola odorata) Leaf Absolute, Neem (Melia azadirachta) Extract, Ivy Gourd (Coccinia indica) Extract, Eggplant (Solanum melongena) Extract, Basil (Ocimum basilicum) Extract, Turmeric (Curcuma longa) Root Extract, Algae (Corallina officinalis) Extract, Amber Powder, Aloe (Aloe barbadensis) Extract, Tulsi (Ocimum sanctum) Extract, Seaweed (Corallina officinalis), Phenoxyethanol, Ethylhexylglycerin, Xanthan Gum. *from organic farming.