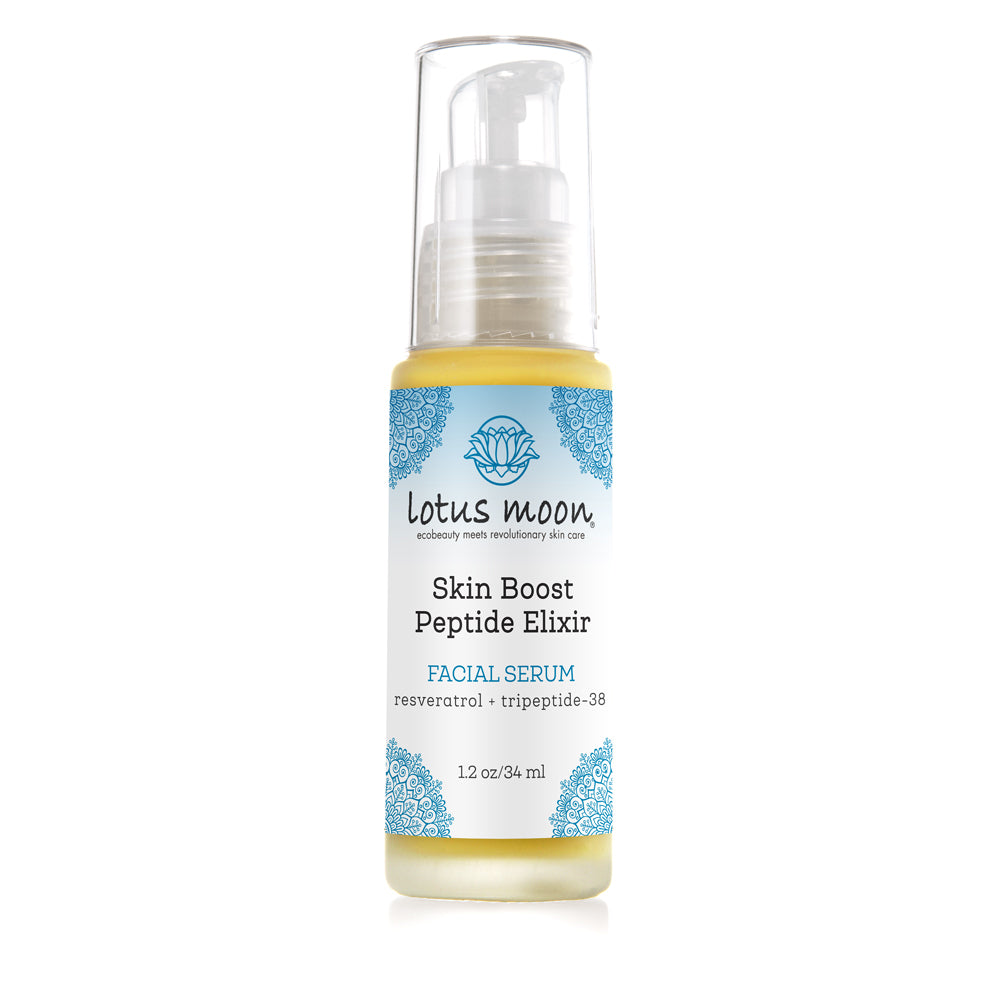 Skin Boost Peptide Elixir
⭐️⭐️⭐️⭐️⭐️ "This is my absolute favorite Lotus Moon product. I use it every morning and my skin absolutely drinks it up. It absorbs completely and the smell is absolutely heavenly!" - D. Fisher
Recommended for: All Skin Types
pH: 4.5-5.0
Size: 1.2 oz
Features: 78% organic, vegan, gluten-free
Benefits:
Smoothes fine lines
Increases collagen production
Decreases the appearance of pores
This remarkable nutrient loaded elixir is as delicious as it is effective!
Peptides work by triggering and stimulating elastin and collagen production, leading to plump and bouncy skin.
Peptides also reduce inflammation and encourage cell growth, this potent serum leaves behind a very noticeable glow.
Skin Boost Peptide Elixir is a lightweight, creamy serum using cutting-edge Matrixyl® synthe'6™ (Palmitoyl Tripeptide-38), to smooth out the skin by helping to increase collagen production in the dermis layer of the skin.
DESCRIPTION

RITUAL

INGREDIENTS
It also contains a blend of essential nutrients including hyaluronic acid, Alpha Lipoic Acid, Resveratrol and CoQ10 for repairing and rehydrating your skin.
Also gives excellent results when used on the neck and décolleté.
Try Skin Boost as a daily serum and experience the luxurious creamy texture as well as the results.
WHY YOUR SKIN WILL LOVE IT
Genetics, along with natural and environmental factors affect the look and feel of our skin on a daily basis. Skin Boost Peptide Elixir combats the effects of the everyday stress that our skin experiences by penetrating deep to protect the natural beauty of the skin with these super star antioxidants CoQ10, Alpha Lipoic Acid and Resveratrol.
Palmitoyl Tripeptide-38 (Matrixyl® synthe'6™) – helps to alert collagen production (by triggering collagen formation) at the DNA level, improve skin elasticity, repair sun-damaged skin and diminish wrinkles.
CoQ10 – a super antioxidant that repairs sun-damaged skin, energizes new cell growth, delivers firming properties, smooths skin and regenerates other antioxidants, such as Vitamin E. In contrast to other antioxidants, CoQ10 inhibits both the initiation and the propagation of lipid and protein oxidation.
Alpha Lipoic Acid – the most powerful of antioxidants. It is able to benefit both the water and lipid portions of the skin. ALA does something that other antioxidants don't: It works inside the cell and in the cell membrane to help achieve some great antiaging effects thanks to it being both fat-and water-soluble.
MSM – when applied topically, can improve pliability of even the deepest skin layers. Also an excellent source of useable organic sulfur for building healthy new cells
Resveratrol – derived from grapes, this potent antioxidant is best known for helping to reduce inflammation
Sea Buckthorn – gives this serum its brilliant orange hue. Packed with beta-carotene brings an added benefit to this already powerful serum. Beta-carotene is converted to vitamin A in the skin
Lecithin (Non-GMO) – rich in phospholipids gives it powerful moisturizing properties that help to keep the skin hydrated
Apply on cleansed skin to entire face making sure to bring up to the hairline.
Use morning and evening for optimal results.
Aloe Barbadensis (Organic Aloe Leaf) Juice, Camellia Sinensis (Organic Green Tea) Extract*, Aspalathus Lineans (Organic Rooibos Tea) Extract*, Vitis Vinifera (Organic Grapeseed) Oil, Emulsifying Wax, Organic Vegetable Glycerin, Hydroxypropyl Cyclodextrin, Palmitoyl Tripeptide-38, Ascorbyl Palmitate, Resveratrol, Dimethylaminoethanol (DMAE), Alpha Lipoic Acid, Lecithin, Hamamelis Virginiana (Witch Hazel) Distillate, CoQ10, Tocopherol (Vitamin E), Hippophae Rhamnoides (Sea Buckthorn) Oil, Rosmarinus Officinalis (Organic Rosemary) Extract, Methylsulfonylmethane (MSM), Malic Acid, Xanthan Gum (Polysaccharide Gum), Prunus Amygdalus Amara (Bitter Almond) Essential Oil.