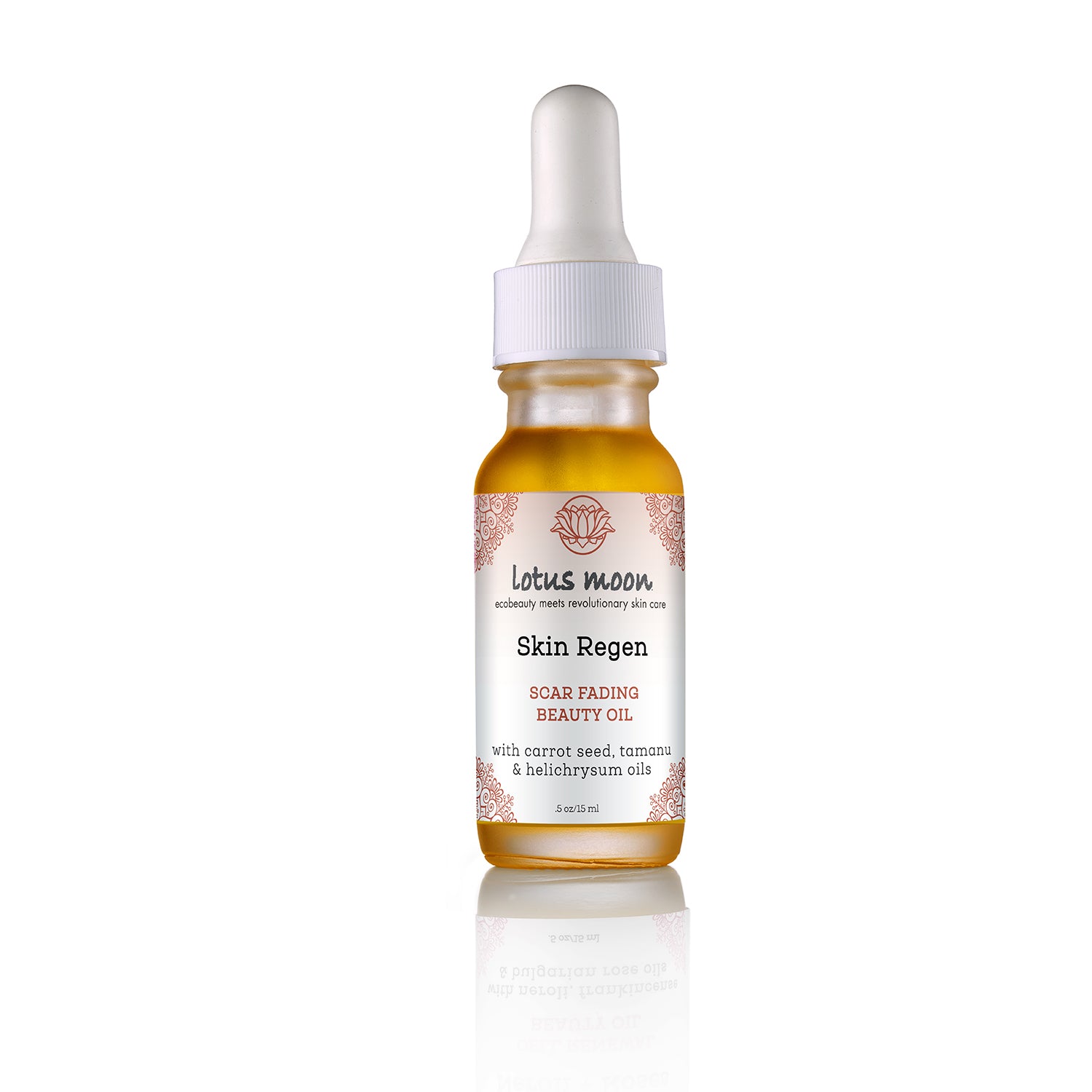 Skin type:
Scars - post-surgery - injured
pH: 5.0
Other features: Organic, vegan, gluten-free
Size: .5 oz/15 ml
DESCRIPTION

HOW TO USE

INGREDIENTS
Skin Regen™ is a highly unique and special blend of 100% organic oils: Sea Buckthorn Oil,  rose hips oil, and the very rare helichrysum oil.
These oils have a reputation for nourishing scar tissue; carrot seed oil, contains powerful anti-oxidants and the soothing virtues of tamanu oil, make this product a wonderfully effective, all natural, skin regenerative treatment.
Skin Regen™ helps to soften scars, keloids, and other skin wounds.
Sea Buckthorn - exceptionally rich in essential fatty acids, carotenes, tocopherols, and phytosterols; excellent for damaged skin, ulcerations, scar tissue, wrinkles, eczema, and burns
Helichrysum Oil - Contains powerful toning qualities. A powerful skin-healer, Helichrysum is very effective at healing stretch marks and rashes. It also has curcumene properties that help to relax tissues within the skin.
Rosehips Oil -  a rich source of omega-3 and omega-6 fatty acids, is high in gamma linoliec acid (GLA) and vitamin C.
Jojoba Oil - has a distinct chemical structure that is unlike any other cosmetic oil. Jojoba oil is actually a mono-unsaturated liquid wax that forms long chains of fatty acids and alcohols, rather than the large, branched molecules of most oils.
This allows Jojoba to absorb more readily into the skin and not remain on the surface. Jojoba leaves the skin feeling soft without being greasy
Tamanu - soothes the skin, it helps to relieve irritations including sun burn and common rashes. Tamanu oil is hydrating, and it also helps regenerate skin cells. It is useful for ability to help soothe cuts and wounds.
Apply one to three drops to the area of treatment and massage well
Simmondsia Chinensis (Organic Jojoba) Oil, Hippophae Rhamnoides (Organic Sea Buckthorn) Oil, Rosa Rubiginosa (Organic Rosehips) Oil, Calophyllum Tacamahaca (Organic Tamanu), Lavendula Angustifolia (Organic Lavender) Essential Oil, Daucus Carota (Organic Carrot Seed) Oil*, Organic Helichrysum Italicum Oil.