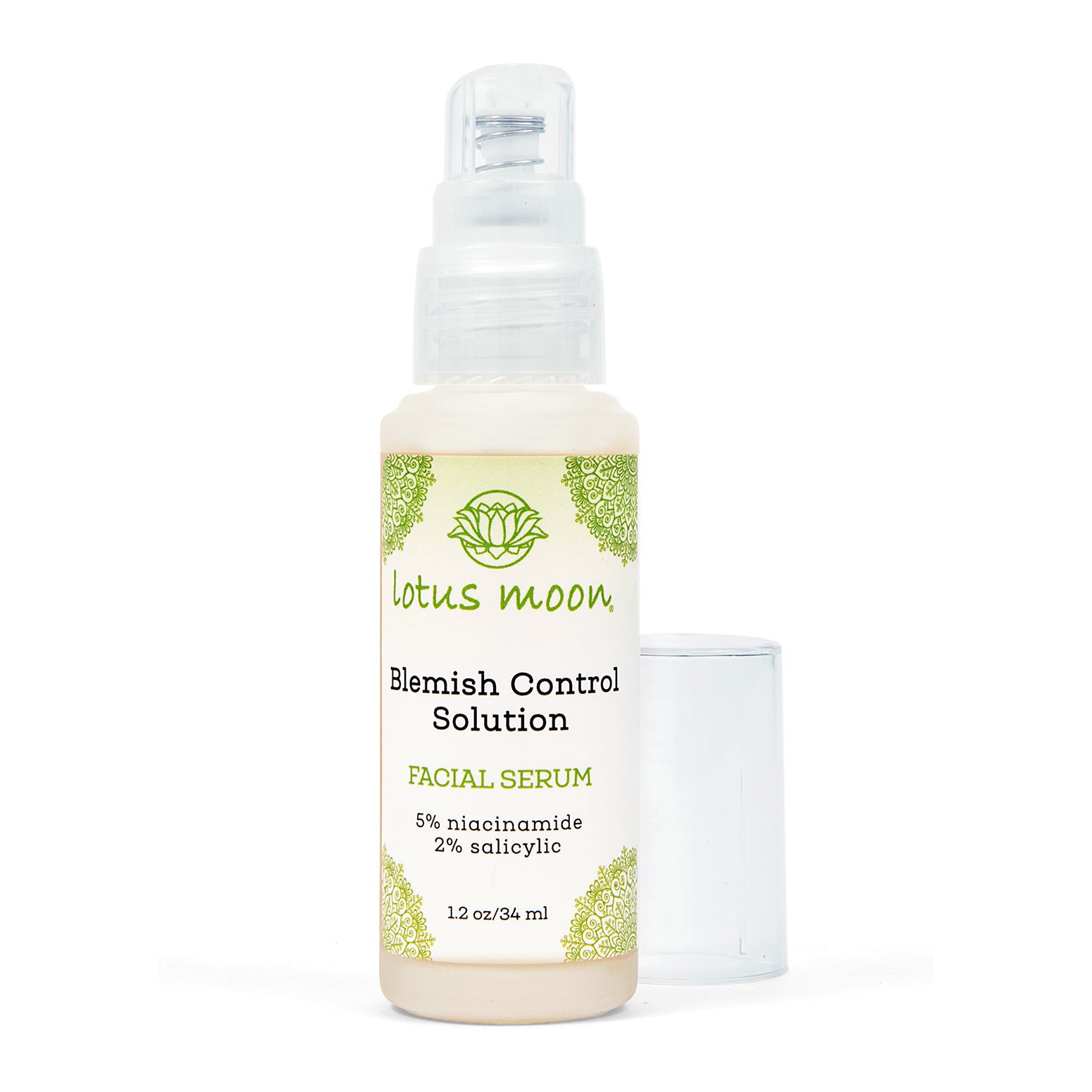 ⭐️⭐️⭐️⭐️⭐️ "It seems that I will always have some kind of pimple pop up now and then. However, this product not only helps clear a blemish, but also prevents new ones!" - JoAnn E.
Recommended for: Oily - Acne - Breakouts
pH: 3.8
Size: 1.2 oz
Features: 5% niacinamide, 2% salicylic, plant-based, vegan, gluten-free
Benefits:
Exfoliates dead skin
Reduces inflammation
Removes excess oil
Strengthens skin barrier
Having problem skin is actually problematic.
In truth, acne, blemishes and scarring have become more common for women due to hormonal imbalances, diet, lifestyle and stress.
Those with oily skin are more prone to blackheads, breakouts and large pores, especially in the T-zone.
CAUTION: This product contains an beta hydroxy acid (bha). Discontinue or reduce usage if irritation occurs. Always use a sunscreen.
MORE INFO

RITUAL

INGREDIENTS 
When sweat glands produce too much oil, pores become clogged with a mixture of sebum and dead skin cells.
No amount of washing can reduce or eliminate acne. What the skin needs is a solution that can fight and prevent breakouts and renew skin cells.
Our powerful Blemish Control Solution contains three superb ingredients that can get rid of your acne and eliminate your after-pimple blemishes. This acne-fighting solution helps reduce shine, sebum production and provides a long-lasting matte-finish.
SUPER STAR INGREDIENTS:
Salicylic Acid (2%) – Beta Hydroxy Acid (BHA), provides exfoliation preventing pore clogging and smoothing fine lines/wrinkles, stimulates new cell growth
Niacinamide (Vitamin B3)– the biologically active form of niacin, Vitamin B3. It increases the rate of skin exfoliation and increases moisture barrier repair.
Studies have shown it to be useful in increasing synthesis of collagen and lipids, inhibiting the transfer of melanosomes and decreasing inflammation; antioxidant that works for aging and acne related issues.
Once or twice daily (sensitive skin start with once daily)
After cleansing and toning
Apply small amount to affected area
Follow with moisturizer (we recommend Vitamin B  or High Potency Recovery Gel) 
Always follow with sunscreen if going outdoors
Aloe Barbadensis (Aloe) Juice*, Niacinamide (Vitamin B3), Glycerin*, Salicylic Acid, Sodium Bicarbonate, Polyglyceryl-4 Caprylate, Sodium Lauroyl Glutamate, Decyl Glucoside, Diglycerin, Gluconodeltalactone, Lavandula Angustifolia (Bulgarian Lavender) Essential Oil*, Mentha Piperita (Peppermint) Essential Oil, Xanthan Gum, Sclerotium Gum. *from organic farming