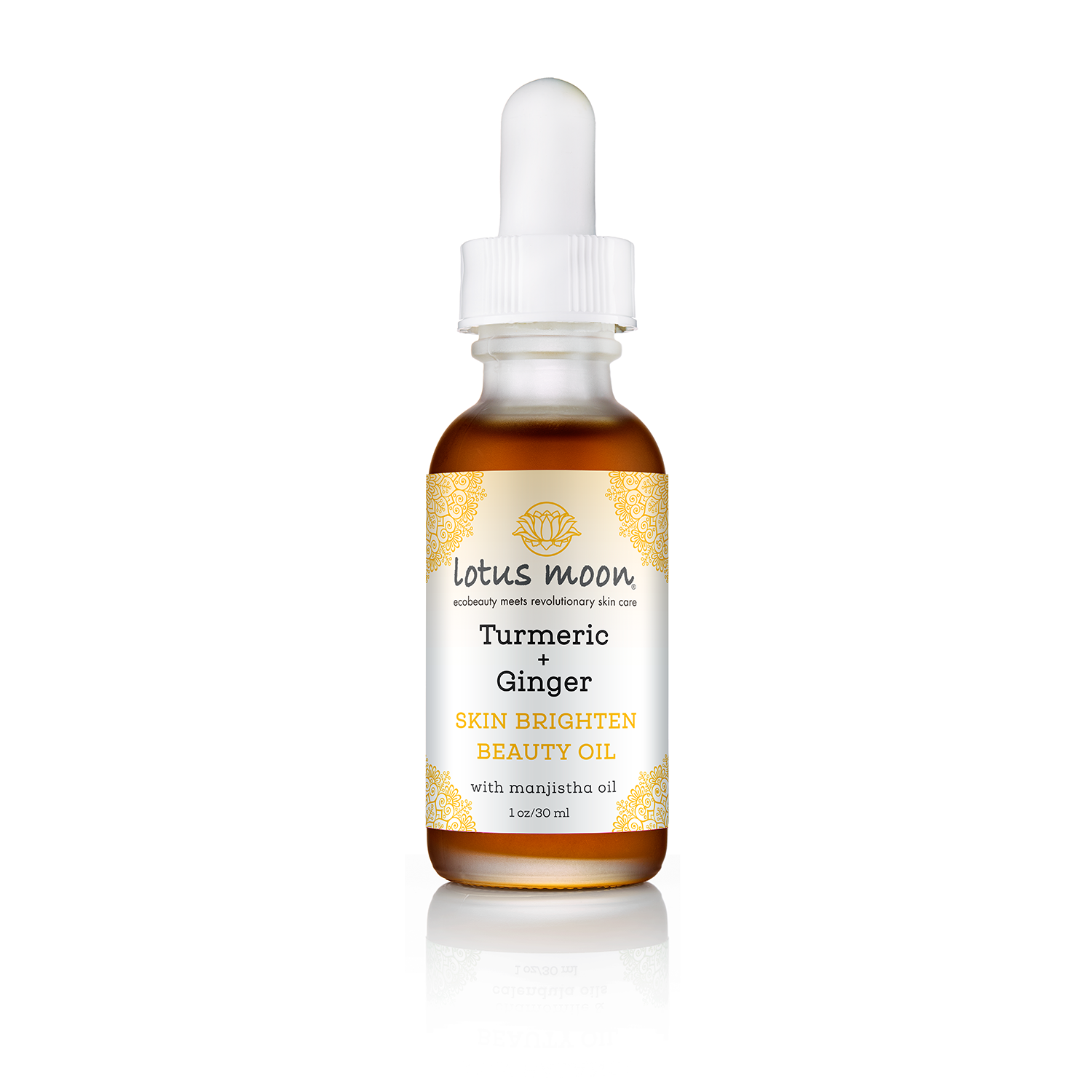 Turmeric + Ginger Beauty Oil
⭐️⭐️⭐️⭐️⭐️ "I absolutely love this product and I'm only half way through my first bottle! I can feel my skin receiving the nutrients it needs as soon as this oil hits my face. It's lightweight, not sticky, and in just a short time of using it I can see some of my dark spots lighten! This also has helped with healing some of my acne. I cant wait to see what this product does over a long period of time! I would highly recommend this! It has become my favorite step in my skincare routine!" - NICOLE C.
Recommended for: All - Discoloration - Normal/Combination
pH: 5.0
Features: plant-based, vegan, gluten-free
DESCRIPTION

RITUAL

INGREDIENTS
Turmeric + Ginger Skin Brighten Beauty Oil is a pure Ayurvedic-inspired blend of plant and essential oils to help naturally lighten discoloration and brighten overall skin tone.
Essential oils have the unique attribute of penetrating to the deepest layer of facial tissue to address skin problems where they begin. 
Manjistha Oil - native to the Himalayas, this ayurvedic oil works to naturally reduce inflammation and lighten dark spots as it works to improve the overall skin complexion
Turmeric Oil – Just like its benefits for the body, turmeric oil is equally as powerful for the skin. Turmeric is an ancient Indian beauty ritual for lightening dark spots and brightening the skin. Over time, turmeric oil works to control oil production.
Ginger Oil – containing around 40 antioxidant properties, ginger essential oil works to prevent free radical damage and protect against premature aging. it also invigorates and improves circulation.
It is consider among the best natural acne fighting oils, as it minimizes the rate of acne formation and eruption by killing the acne causing bacteria.
Sandalwood - This skin restorative oil works to soothe and soften skin so it stays hydrated for longer.
Apply 1-2 drops to clean skin or on top of your favorite moisturizer.
Use as the last step in your skincare routine, or mix with your face cream for a boost of hydration.
To give your makeup a dewy glow, apply to your skin prior applying makeup.
Simmondsia chinensis (ORGANIC Jojoba) Seed Oil, Vitis vinifera (ORGANIC Grapeseed) Oil, Curcuma longa (ORGANIC Turmeric) Oil, Manjistha (Rubia cordifolia) CO2, Zingiber officinale (ORGANIC Ginger) Root Oil, Boswellia carteri (ORGANIC Frankicense) Oil, Santalum spicatum (ORGANIC Sandalwood), Citrus sinensis (ORGANIC Orange Fruit Peel) Oil.