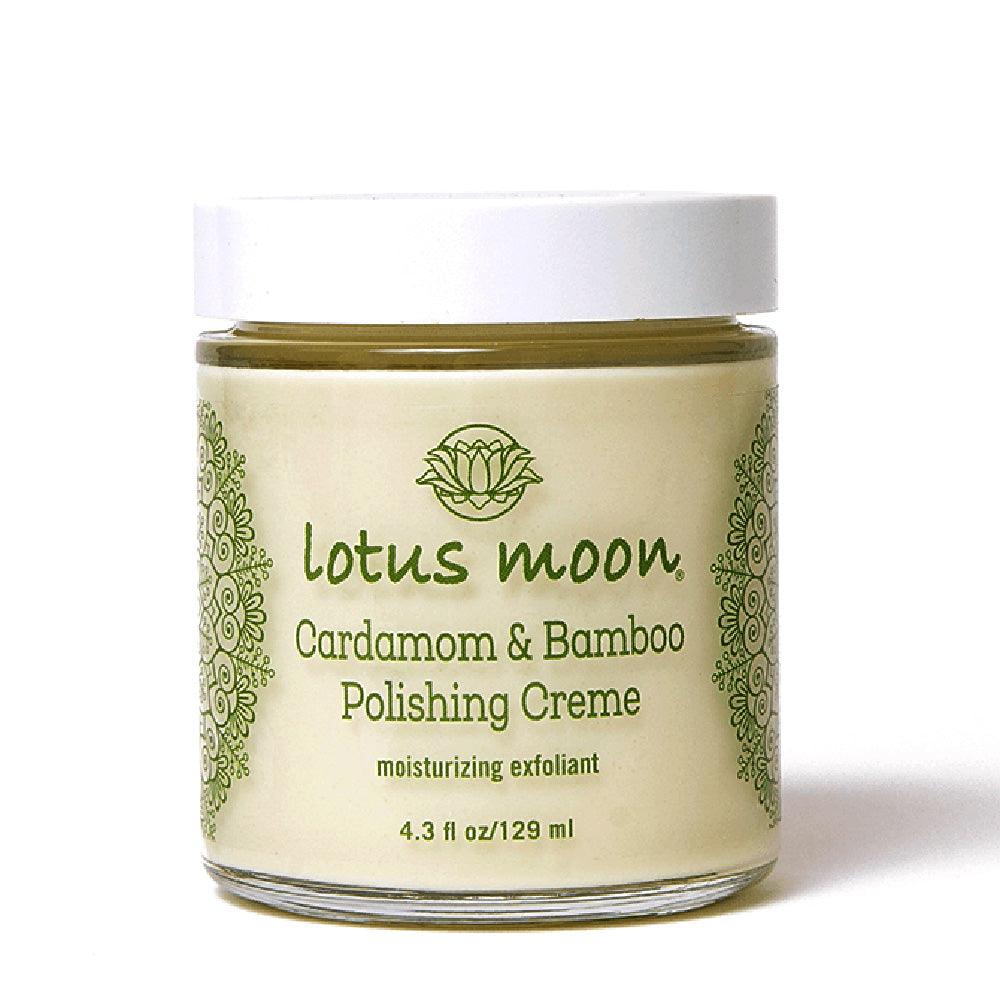 Cardamom and Bamboo Polishing Creme
⭐️⭐️⭐️⭐️⭐️ "Lotus Moon made the PERFECT exfoliator here! After using, my skin always feels smoother and more hydrated. In addition to feeling better, it LOOKS brighter and more fresh. I love it!" - Cait R.
Applications: approximately 40-50 treatments per jar 
Recommended for: All, especially dry and combination
pH: 4.5-5.5
Features: 72% organic, plant-based, gluten-free
Benefits: 
Helps rid skin of oil, debris and dead skin cells

Stimulates skin's surface for improved circulation

Cardamom oil and Bamboo extract help detoxify pores

Helps refine skin texture and brightens skin tone
If you have dry skin build up, accompanied with dullness, then Cardamom Bamboo Polishing Creme is for you. In addition to its manual exfoliating capabilities we added lactic acid to brighten and hydrate.

The intoxicating aroma of cardamom will revive senses while bamboo extract and jojoba beads polish away the damage of the day, not to mention is gentle enough to use every day.
MORE INFO

RITUAL

INGREDIENTS
Aloe Vera - contains almost 20 amino acids, minerals like calcium, magnesium and sodium in sufficient quantities, enzymes, vitamins, polysaccharides, nitrogen and other components that make it a miracle beauty herb; improves the skin's ability to hydrate itself; refreshing, healing agent, humectant and emollient, softens skin
Lactic Acid – smoothes skin and improves its texture; natural brightening abilities
Coconut Oil – moisturizing, protective and emollient. Has unique fatty acid profile gives it the ability to moisturize and retain the elasticity of the skin.
Avocado Oil – This is a highly therapeutic oil which is rich in vitamins A, B1, B2, D and E, and fatty acids. Nourishes and restores dry, dehydrated, and mature skin
Olive Oil – Lubricant, anti-wrinkle and soothing
Rooibos Tea Extract – Japanese scientists found that rooibos tea contains a mimic of the enzyme Super Oxide Dismutase (S.O.D.) which is an antioxidant that attacks the free radicals and limits their damaging effects
Bamboo Stem Extract – gentle exfoliation, non-abrasive, high silica content
Apply approximately a nickel size amount of crème to moistened skin with fingers
Massage gently in circular motions, rinse
Follow with toner and moisturizer
Aloe barbadensis (Organic Aloe Vera) Juice, Cocos nucifera (Organic Coconut) Oil, Lactic Acid, Aspalathus linearis (Organic Rooibos Tea) Extract, Simmondsia chinensis (Jojoba) Wax Beads, Emulsifying Wax, Vegetable Glycerin, Palm Stearic Acid, Bambusa glaucescens (Bamboo) Extract, Olea europaea (Organic Olive) Oil, Simmondsia chinensis (Organic Jojoba) Oil, Persea americana (Avocado) Oil, Hamamelis virginiana (Witch Hazel), Tocopherol (Vitamin E), Xanthan Gum (Polysaccharide Gum), Salix alba (Willow Bark) Extract, Rosmarinus officinalis (Rosemary) Extract, Azadirachta indica (Neem) oil, Spirulina maxima (Blue Green Algae), Essential oils of: Lemon Peel, Pink Grapefruit, Lime, Ginger Root, Rosewood, Lemongrass, Citronella, Patchouli, Ylang Ylang, Cinnamon Leaf, Neroli, Cardamom, Litsea Fruit, and Bergamot.