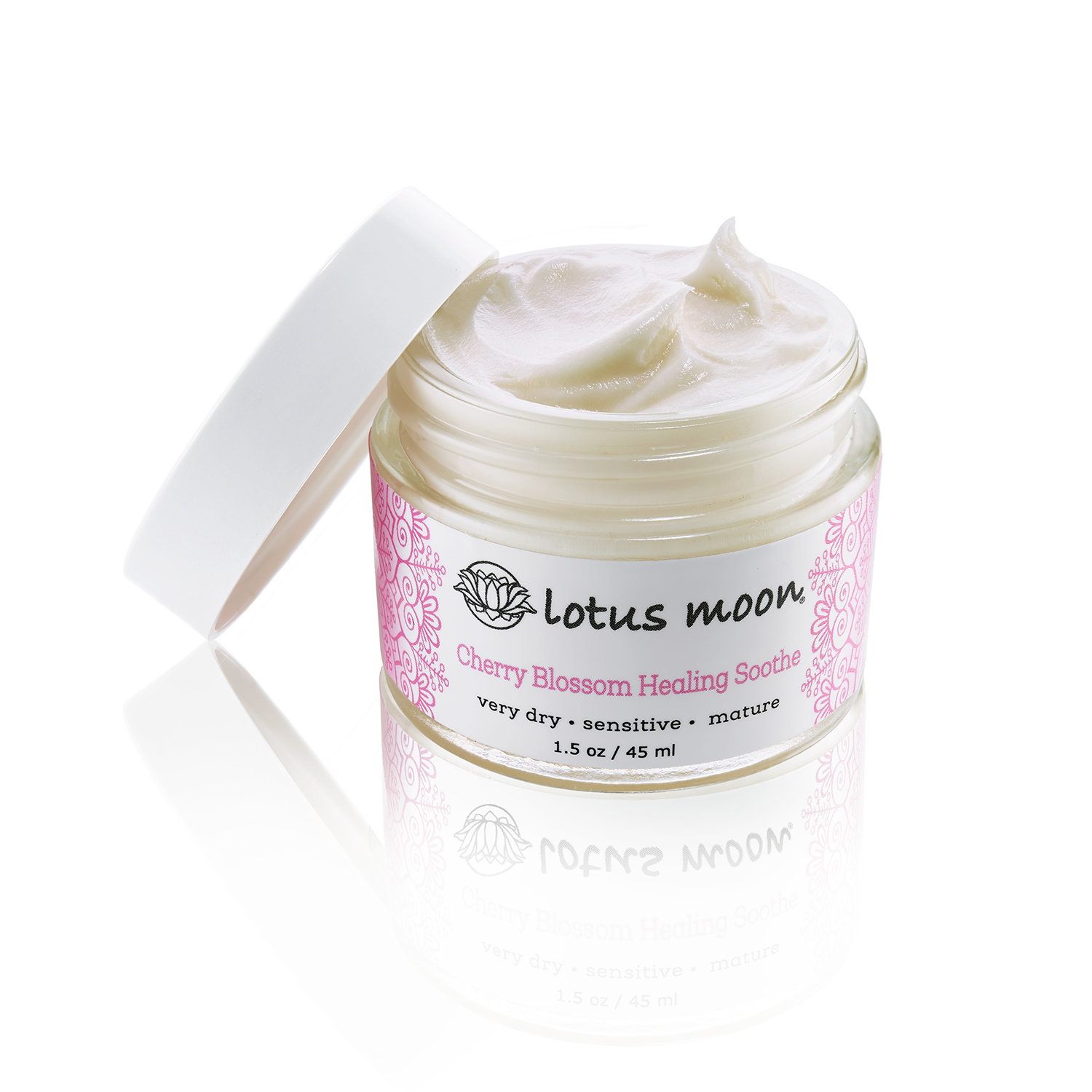 ⭐️⭐️⭐️⭐️⭐️ "I've been using this divine cream on my face for nearly four years. I've tried serums and expensive, trendy moisturizers, and nothing compares to this. Every time I use it, my face feels instantly hydrated. In fact, it glows. The best part is that every ingredient is made by nature." - Elizabeth B., Lotus Moon customer
Recommended for: Very Dry - Mature - Sensitive
pH: 4.5-5.5
Features: plant-based, vegan, gluten-free
Size: 1.5 oz
DESCRIPTION

HOW TO USE

INGREDIENTS
A little goes a long way! This one jar will last for months.
This is super moisturizing nourishment for so many skin conditions and types that we've stopped counting!
Super dry, irritated, sun burned, skin recovering from laser resurfacing or as therapeutic treatment of eczema, rosacea, dermatitis or burns.
This healing blend of shea butter combined with a generous amount of willowherb extract is ideal for post laser treatments and other irritated skin conditions.
It maintains moisture and protection. It can be used as an under eye and lip treatment too!
Cherry Blossom Healing Creme is formulated especially to create a soothing and protective barrier on the skin after laser or other resurfacing procedures.
It protects the skin from burning sensations, like an ointment would. But it's not greasy or comedogenic like some ointments.
It contains a substantial amount of Willowherb Extract, which tests have shown decreases redness and inflammation better than 1% Hydrocortisone.

Many doctors use petrolatum after laser surgery. Why? We ask the same question.
-- When Shea Butter is demonstratively better in combating inflammation, while going even a step further by actually promoting tissue respiration and repair.
Here's why it is so effective:
Willowherb Extract – excellent natural alternative to hydrocortisone, naturally soothing, anti inflammatory botanical
Shea Butter – moisturizing, protective and emollient; helps soothe and heal
Centella Asiatica Extract – Soothes skin, anti-itching, healing, and good for couperose conditions, promotes collagen growth, and helps sunburn
Horse Chestnut Extract – Promotes circulation; ability to help reduce the permeability of capillaries. Anti-inflammatory, toning, astringent, strengthens capillaries
L-mandelic Acid – Humectant, skin conditioner, anti-oxidant. Suppresses pigmentation, increases cell turnover; anti-bacterial
D-boldine Extract – Anti-oxidant, anti-inflammatory, protects cells and prevents peroxidation, is calming, inhibits intra-cellular oxidants
Butcherbroom Extract – Strengthens capillary walls, vasoconstrictor, increases circulation, anti-inflammatory, helps tone and relieves puffiness
Please note: Shea butter is the base of this product. Depending on season and temperature shea butter can become grainy.
When the butter melts and then cools, crystals can form during the cooling process.
The grainy texture is not an indication of poor quality.
Like most things pure and natural, they react to their environment. The only way to control this change is to introduce some kind of chemical additive which we don't do.
After cleansing and toning massage an even amount into clean moistened skin
Can also be used on lips and as an under eye night treatment
Use daily as needed for moisture and/or excellent night time treatment
Excellent for use after a professional resurfacing treatment or chemical peel
Butyrospermum Parkii (ORGANIC Shea) Butter, Helianthus Annuus (ORGANIC Sunflower) Seed Oil, Polyglyceryl-4 Caprate, Glycerin, Alcohol Denat., Epilobium Angustifolium Flower/Leaf/Stem Extract, Rosa Canina (ORGANIC Rose Hip) Fruit Oil, Calendula Officinalis Flower Extract, Ruscus Aculeatus (Butcher's Broom) Root Extract, Prunus Serotina (Wild Cherry) Bark Extract, Lavandula Angustifolia (ORGANIC Lavender) Oil, Centella Asiatica (Gotu Kola) Extract, Mandelic Acid (L), Peumus Boldus Leaf Extract, Prunus Avium (Sweet Cherry) Fruit Extract, Prunus Cerasus (Bitter Cherry) Extract, Cananga Odorata (Ylang Ylang) Flower Oil, Hamamelis Virginiana (Witch Hazel) Water, Potassium Sorbate, Natural Fragrance.