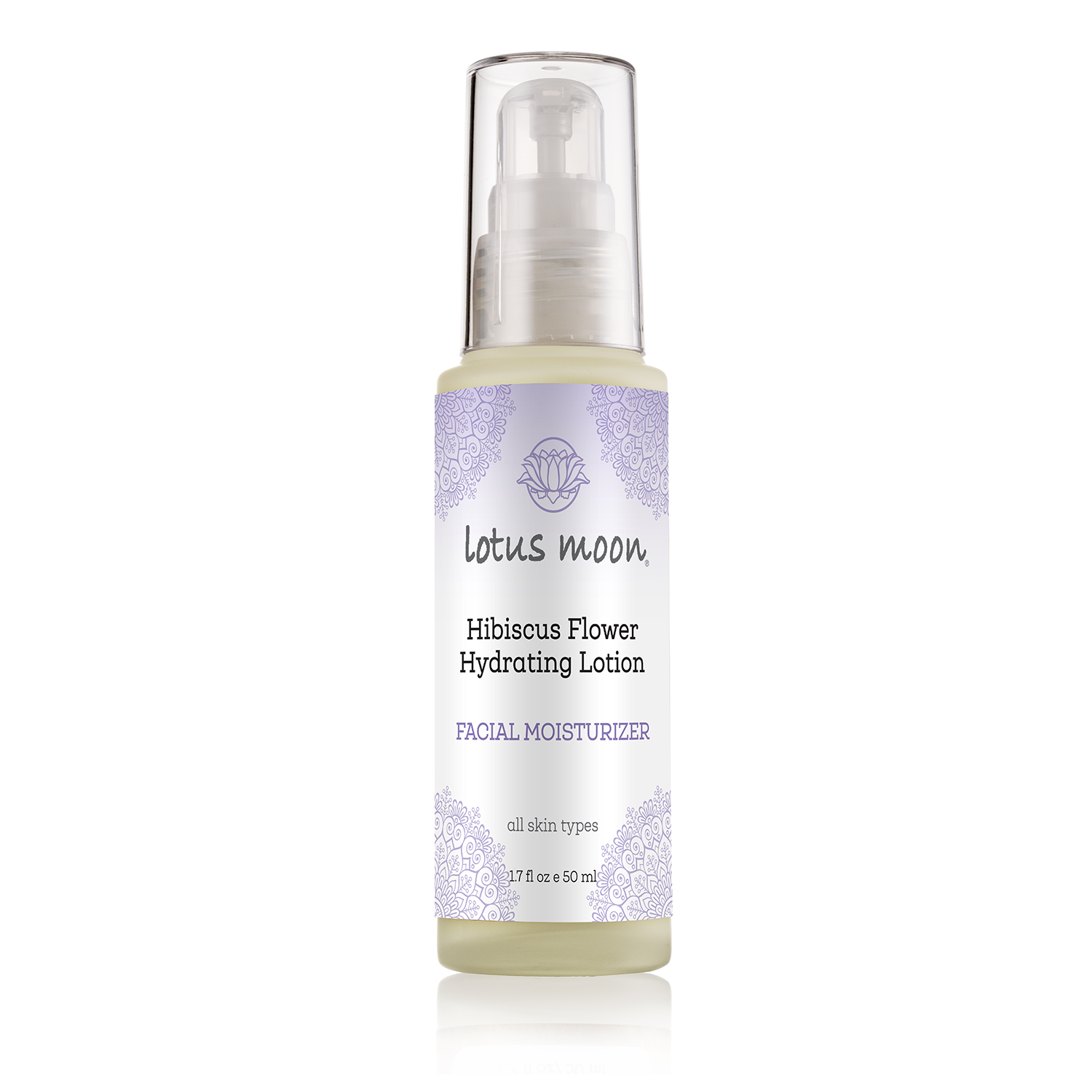 Hibiscus Flower Hydrating Lotion
⭐️⭐️⭐️⭐️⭐️ "Greatest Of All Time. I've used countless moisturizers over the years. I have skin very sensitive to chemicals and prone to reacting by either drying out or breaking out. This moisturizer is by FAR the best formula I've ever tried. It's non-drying, but never greasy. It's light-weight. It smells FANTASTIC. I would recommend this to anyone, but especially people with fickle skin." - Cait L., Lotus Moon customer
Recommended for: All - Oily - Mature - Sensitive
pH: 4.5-5.5
Features: 90% organic, vegan, gluten-free
Size: 1.7oz
DESCRIPTION

HOW TO USE

INGREDIENTS
Think of your skin as a gentle flower that needs tender loving care...when you reach for Hibiscus Flower Hydrating Lotion. 

Hibiscus Flower Hydrating Lotion has a light and gentle consistency that leaves your skin velvety soft and irresistibly touchable.

Aloe vera along with coconut oil helps to deliver delicious moisture deep into the skin making dryness disappear and oily skin balanced. Hibiscus flower extract is a natural source of the antioxidant Vitamin C making this ideal for mature skin types as well.
WHY YOUR SKIN WILL LOVE IT
Containing the natural occurring substance of DMAE, Hibiscus Flower Hydrating Lotion extends the life of your skins' cells creating a tone and firm appearance.
Once applied this moisturizers' delicate floral blend of ylang ylang, lavender and pink grapefruit will whisk you on a soothing and uplifting journey that excites your senses and refreshes your skin.
This all natural, yet powerful punch for your skin will NOT leave you or your skin disappointed.

WHAT ARE THE BENEFITS?

Aloe Vera – contains almost 20 amino acids, minerals like calcium, magnesium and sodium in sufficient quantities, enzymes, vitamins, polysaccharides, nitrogen and other components that make it a miracle beauty herb; improves the skin's ability to hydrate itself; refreshing, healing agent, humectant and emollient, softens skin, soothing

Hibiscus extract – it provides a tightening effect without stripping the skin of its natural oils; high degree of astringency and tonifying properties; improves skin elasticity and cellular turnover; antioxidant

Coconut Oil – moisturizing, protective and emollient; helps soothe and heal. Its high of unique fatty acid profile gives it the ability to moisturize and retain the elasticity of the skin

Rosehips Oil – a rich source of omega-3 and omega-6 fatty acids, is high in gamma linoliec acid (GLA) and vitamin C. For this reason, it's great for mature dry skin because it helps make the skin feel softer and smoother, reduce roughness, cracking and irritation

DMAE – a natural occurring substance that extends the life of cells and inhibits the cross linking of proteins, which gives the skin a tone and firm appearance

MSM – feeds the formation of collagen and elastin while preventing and reducing cross-linking between cells, which is the primary cause of wrinkles and scar tissue.
Apply morning and evening, after cleansing with a Lotus Moon Cleanser and toning with a Lotus Moon toner Gently massage a small amount into the face, neck and décolleté.
*Aloe Vera (Aloe barbadensis) Leaf Juice, *Jojoba (Simmondsia chinensis) Oil, Cetearyl Olivate, Sorbitan Olivate, *Glycerin, Stearic Acid, *Coconut (Cocos nucifera) Oil, *Alcohol, *Hibiscus (Hibiscus sabdariffa) Flower Extract, Hyaluronic Acid (Sodium Hyaluronate), Ascorbyl Palmitate, Niacinamide, DL-Panthenol, Dimethylaminoethanol Bitartrate, OptiMSM (Methylsulfonylmethane), *Rooibos (Aspalathus linearis) Extract, Pink Grapefruit (Citrus paradisi) Essential Oil, Bulgarian Lavender (Lavandula angustifolia) Essential Oil, Cedarwood Himalayan (Cedrus deodara) Essential Oil, *Ylang Ylang (Cananga odorata) Essential Oil, Caprylhydroxamic Acid, Glyceryl Caprylate, Glycerin. *organic