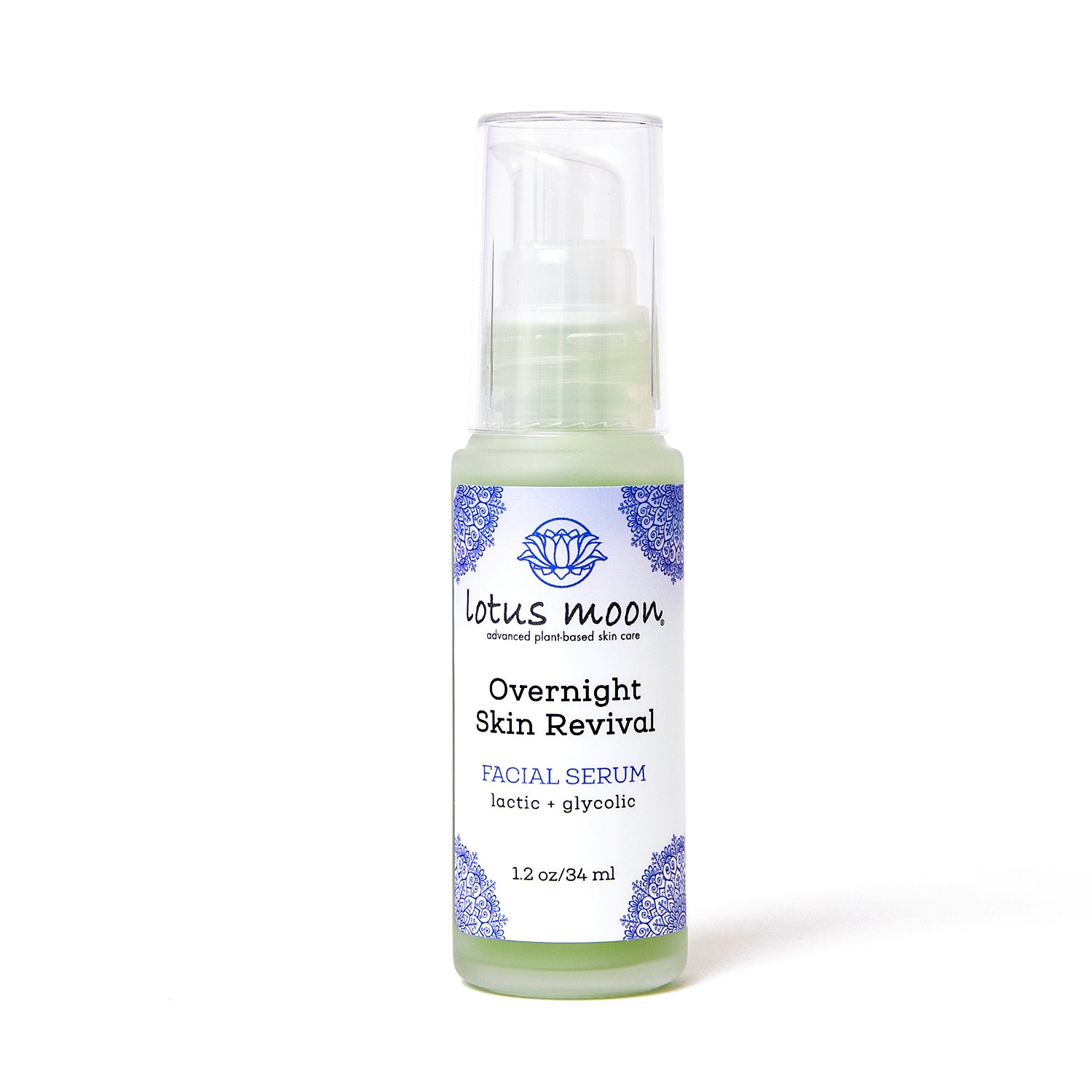 Recommended for:
All – Mature – Sun damaged - Oily
pH: 4.0
Features: 72% organic, vegan, gluten-free
Benefits:
the break down of old cells
accelerate the emergence of new cells
gradually reduce discoloration
restore skin thickness, texture and tone
DESCRIPTION

RITUAL

INGREDIENTS
Overnight Skin Revival (formerly known as Firm and Refine Night Gel).
We have given it a makeover. We increased the algae content for more antioxidant benefits and to give it its lovely green hue.
It is a natural and organic nighttime firming treatment that combines active ingredients glycolic and lactic acids.
This combination helps lift away dead cells and promote the growth of new ones – without being too harsh.
WHY YOUR SKIN WILL LOVE IT
Helps

improve skin texture and diminish the appearance of wrinkles and hyperpigmentation

Assists in the prevention of clogged pores without over-drying
Helps to tighten and strengthen tissue
THESE ARE THE BENEFITS
Lactic acid (3%)– not only provides rich hydration and softens the skin, but also exfoliates without causing irritation; treats pigmentation discolorations and reduces wrinkles.
Glycolic acid (5%)– removes dead cells, smoothes skin texture and reduces the signs of wrinkles. Since it is a smaller molecule it is able to penetrate cellular walls and actively stimulate collagen production and cell turnover.
Blue Green Algae– Sourced from Oregon's Cascade Mountains, blue green algae is the most nutrient intact algae available in the world.
It is a complete balance of the entire B-Complex of vitamins (including B-12) as well as high levels of vitamin A and C.
Blue green algae have a high protein content which strengthens skin and is made up of 22 amino acids.
Studies now show that Blue Green algae has been linked to increased Adult Stem Cell growth, which are cells that the skin needs to repair itself.
Aloe Vera – contains almost 20 amino acids, minerals like calcium, magnesium and sodium in sufficient quantities.
enzymes, vitamins, and polysaccharides, that make it a miracle beauty herb;
improves the skin's ability to hydrate itself;
extensive research supports aloe vera's ability to reduce inflammation.
Cleanse and tone the face and neck with the appropriate products. 
Use in the evening every other night.
Follow with moisturizer.
*Aloe Vera (Aloe barbadensis) Leaf Juice, Glycolic Acid (5%), Lactic Acid (3%), Sorbitol, *Blue Green Algae Extract, Baking Soda (Sodium Bicarbonate), Neem (Melia azadirachta) Extract, Algae (Corallina officinalis) Extract, False Daisy (Eclipta prostrata) Extract, Holy Basil (Ocimum sanctum) Extract, Sclerotium Gum, Xanthan Gum, Caprylhydroxamic Acid, Glyceryl Caprylate, Glycerin. *ORGANIC