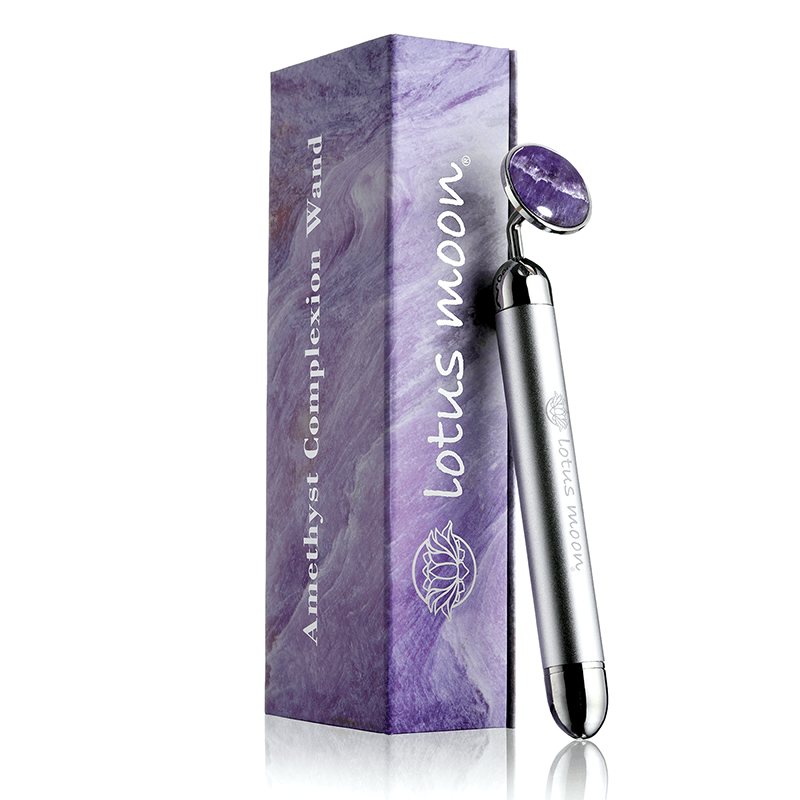 Are you all about the good vibrations? We sure are!

Are you familiar with sonic vibration? If not, you're in for a treat!
The Amethyst Complexion Wand uses high-frequency vibrations to promote better absorption of skincare products and stimulate the skin. Here are six benefits of using a facial complexion sonic vibration wand:

BENEFITS:
Improved Absorption: The high-frequency vibrations of the wand help to penetrate skincare products deeper into the skin, allowing for better absorption and increased effectiveness.
Enhances Circulation: The vibrations of the wand stimulate blood flow, which can help to reduce puffiness, promote lymphatic drainage, and give the skin a brighter, healthier appearance.
Reduces Wrinkles and Fine Lines: The increased circulation and enhanced absorption of skincare products can help to reduce the appearance of fine lines and wrinkles over time.
Relaxation: The gentle vibrations of the wand can help to relax facial muscles, which can lead to a more relaxed and youthful appearance.
FEATURES:
Real amethyst stone
Sonic vibration
The Lotus Moon Amethyst Complexion Wand is the perfect combination of ancient wisdom and modern technology.This real amethyst crystal vibrating wand is designed to allow molecules in serums and moisturizers to penetrate more efficiently.
Massaging the facial skin with vibration helps to relax the areas where stress lines tend to appear around the eyes, eyebrows and mouth. The stimulation results in improved circulation, which ultimately helps produce collagen and elastin… and we all want that too right?

So while the circulation boost it provides is fleeting (as with anything), vibration can contribute to long-term well-aging (we try to avoid using "anti-aging" language around here) by preparing the skin to absorb topically applied lotions and potions.

How does this differ from a typical rose quartz roller, you ask?

The main difference is that sonic vibrations, as you move the wand gently around the skin, not only help stimulate blood flow and aid in lymphatic drainage, but also the vibrations do most of the work for you.

Boosted blood flow means that more nutrients make their way to the skin (hence, the healthy glow), lymphatic drainage helps eliminate built-up fluid and toxins. We chose amethyst for its "healing powers" as it is believed to aid in alleviating headaches, insomnia and anger… and its also one of the healing crystals for the crown chakra which is in charge of aligning ourselves with universal energy… and we all want that, right?

We stay away from making exaggerated claims - but it is our hypothesis as we begin to relax the skin, and mind for that matter, so too will the fine lines relax…
You can even use it while watching TV... (that's what my mother does).
10 minutes a day.