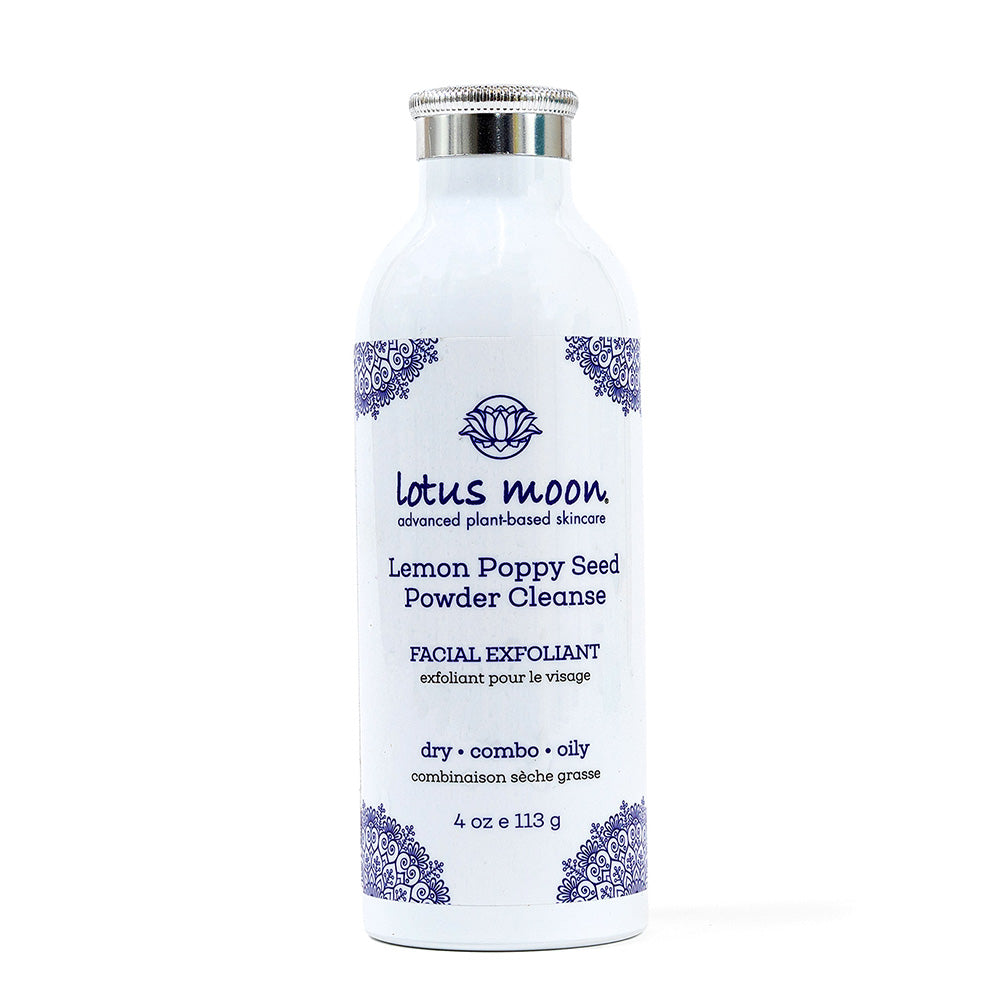 Lemon Poppy Seed Powder Cleanse
⭐️⭐️⭐️⭐️⭐️ "I absolutely love the Lemon Poppy Seed Powder Cleanse. I have oily skin that is prone to breakouts and since I've been using this cleanser (for almost 2 years now), I've had hardly any breakouts. My skin always feels so clean after using it. Positively addicted!" - Trish B., Lotus Moon customer
Recommended for: All
pH: N/A
Features: 95% organic, vegan, gluten-free
Size: 4 oz / 113 gr
DESCRIPTION

RITUAL

INGREDIENTS
Lemon Poppy Seed Foaming Powder Cleanse is a ready-to-use cleansing powder that becomes a beautifully foaming exfoliant once activated with water.
WHAT ARE THE BENEFITS?
Removal of dead skin build up
Deep pore cleansing
Non-abrasive and gentle exfoliation
Can be added to your favorite creamy cleanser
WHY WILL YOUR SKIN LOVE IT?
Lemon Poppy Seed Foaming Powder Cleanse softly polishes the skin while effortlessly cleansing away dead surface skin cells and impurities.
The natural poppy seeds combined with jojoba beads act as natural exfoliators to gently remove dull, flaky build up.


Stone Ground Corn Meal – naturally non-abrasive exfoliant; rich in minerals
Poppy Seeds – gentle exfoliation 
Jojoba Beads – gentle, non-abrasive spheres
Sodium Coco Sulfate – naturally derived coconut oil surfactant  (the natural alternative to Sodium Lauryl Sulfate SLS)
Lemon Peel Powder – high vitamin C content; provides citrus bioflavonoids that help stabilize capillaries
Wet palms, shake approximately 1/8 tsp (dime size) into palm of hand,
rub hands together to activate foaming action (add additional water if needed)
Using circular motions apply to your face
Rinse well and enjoy beautifully polished skin
Avoid contact with eyes

DO NOT USE IN SHOWER. PRODUCT WILL CAKE AND BECOME HARD.
Zea Mays (ORGANIC stone ground corn) Kernel Meal, Citrus Limon (ORGANIC Lemon Peel) powder, Sodium Coco Sulfate, Papaver Somniferum (ORGANIC Poppy) Seed, Jojoba Esters (Beads).