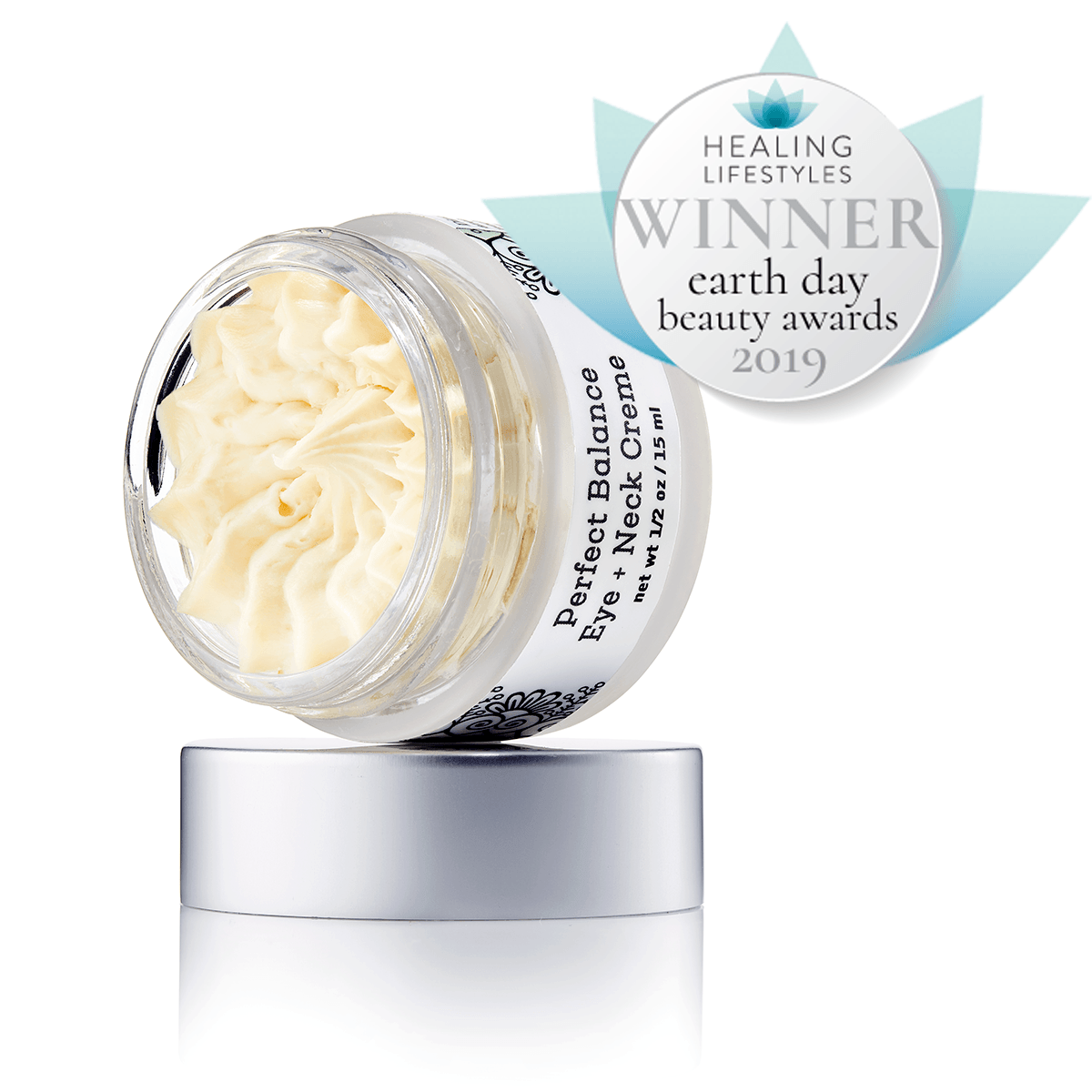 Perfect Balance Eye and Neck Creme
"Be prepared to amazed. I opened the jar and it smelled heavenly and good enough to eat. But don't eat it, just put a little bit on your neck and it will be smooth as a babies bottom. Yippie! Just what I have been looking for... - Margery C."
Recommended for: All skin types

Features: 90% organic content
DESCRIPTION

RITUAL

INGREDIENTS
If you're looking to care for your delicate eye and neck area, Perfect Balance Eye + Neck Creme is it! -- because we wanted to create an eye and neck cream in a single jar.
No matter how committed you are to skin care, there's one significant area we all seem to neglect: The neck area.
This delicate area — from the chin to the chest — is one of the first places on your body to reveal signs of aging, and, perhaps the most noticeable.
The skin of the neck is sensitive and thin compared to other parts of the body and is as delicate as the eye area.
This decadence in a jar is a delight to apply to the skin as it works to soften fine lines and wrinkles that form around the eye and neck areas.
For best results layer it with Firm and Refine Night Gel. 
Read: Beauty Hack: Get Your Eye Cream To Work Better

THESE ARE THE BENEFITS 

APPLE EXTRACT
Believed to provide many benefits as it is highly packed with powerful polyphenols and antioxidants. The extract from apple leaves contains high concentrations of phenolic compounds and flavonoids, which are useful in providing anti-aging effects. Uses of apple fruit for skin include antioxidant protection, helps protect the skin by neutralizing free-radicals present in the environment, thus allowing skin to look younger and healthier.

CACAO BEAN
from which chocolate is created - helps stimulate microcirculation while restoring elasticity and providing antioxidant protection from free radical age damage.

GRAPESEED OIL
has astringent qualities that help tighten skin. Very rich in linoleic acid, easily absorbed by the skin, and therefore very useful and effective as a skin moisturizer.
Massage an even layer to clean, dry skin. Follow with a moisturizer (dry skin) or leave as is (oily skin).

Organic Shea Butter (Butyrospermum Parkii), Organic Aloe Leaf Juice (Aloe Barbadensis), Organic Grapeseed Oil (Vitis Vinifera), Organic Lecithin, Organic Beeswax, Organic Carnauba Wax (Copernicia Cerifera), Organic Acai Extract (Euterpe Oleracea), Organic Cocoa Bean Extract (Theobroma Cacao), Apple Fruit Extract (Pyrus Malus), Vitamin E (Tocopherol), Sunflower Seed Oil (Helianthus Annuus), Organic Glycerin, Organic Vanilla Bean Extract (Vanilla Planifolia), Honey, Xanthan Gum.