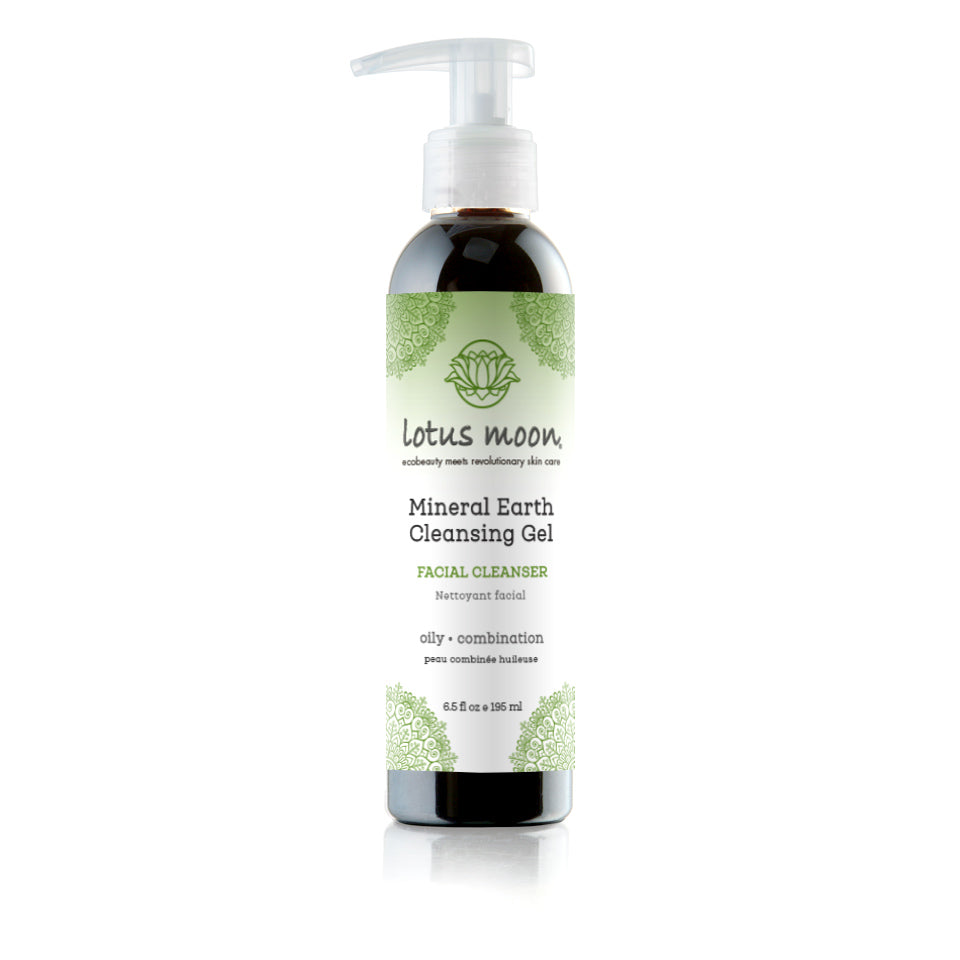 Mineral Earth Cleansing Gel
⭐️ ⭐️ ⭐️ ⭐️ ⭐️  "It has taken me years of buying products that don't work to FINALLY come to this brand. This is the best black soap for oily skin I have ever used." - Ericka
Recommended for: Oily - Acneic
pH: 4.5-5.5
Features: plant-based, vegan, gluten-free
Benefits:
Helps regulate sebum production
Deep cleansing of the pores
Cleans without stripping the skin of its natural oils
DESCRIPTION

RITUAL

INGREDIENTS
Made from the cooked leaves of plantain, cocoa pods and other native plants, and rich skin-loving oils, such as shea butter, sunflower and coconut, this unique 100% all natural blend works by drawing out toxins and cleaning away bacteria, surface impurities and make-up.
Mineral Earth Cleansing Gel is a thick and concentrated cleansing gel that lasts. This blend of black soap with a hint of lemongrass removes the excess oils and impurities from the skin leaving a clean and fresh feeling after every wash.
HOW DOES IT WORK?
Black Soap – Made from dried plantain skins, palm leaves, cocoa pod powder, and kernel oil, "black soap" supplies the skin with an all-natural cleansing process. It is a natural source of vitamins A & E and iron.
The roasted plantain skin is mixed with palm oil, palm kernel oil to form the soap.
The roasting of the plantains determines the color of the soap. The longer the plantains are roasted, the darker the soap.
It is the plantain skin, however, that is largely responsible for making this soap so effective.
Plantain is a natural source of vitamins A and E.
Sunflower Oil – Has soothing properties. Non-comedongeic. Has high linoleic acid and essential fatty acid content; moisturizing, softening, and rich in antioxidants.
Shea Butter – bolsters skin's natural moisture barrier, nourishing cells and helping to prevent water loss, protective and emollient; helps soothe and heal.
Red Bush Tea – potent antioxidant used to calm skin and to combat aging at the cellular level.
Lemongrass – is anti-bacterial and acts as an astringent, helping to maintain the skin's natural pH balance;
Sweet chamomile and calendula calm and soothe irritations
Massage a dime-sized amount gently between dry palms,
Add water to activate foaming action.
Using circular motions massage onto facial skin & décolleté,
add additional water if needed. 
Avoid contact with eyes.
Agua (Distilled Water), Helianthus Annuus (ORGANIC Sunflower) Oil, Theobroma Cacao (Cocoa Pod) Ash, Plantago Lanceolata (Plantain Peel) Ash, Elaeis Guineensis (Palm Kernel) Oil, Bvaphia Nitida (Camwood) Bark, Butyrospermum Parkii (ORGANIC Shea Butter), Cocos Nucifera (ORGANIC Coconut Oil), Aloe Ferox, Kigelia Africana Extract, Hypoxis Hemerocallidea (African Potato), Anthemis Nobilis (ORGANIC Chamomile), Calendula Officinalis (ORGANIC Calendula), Potassium Hydroxide, Cymbopogon Flexuosus (Lemongrass) Oil, Citric Acid.