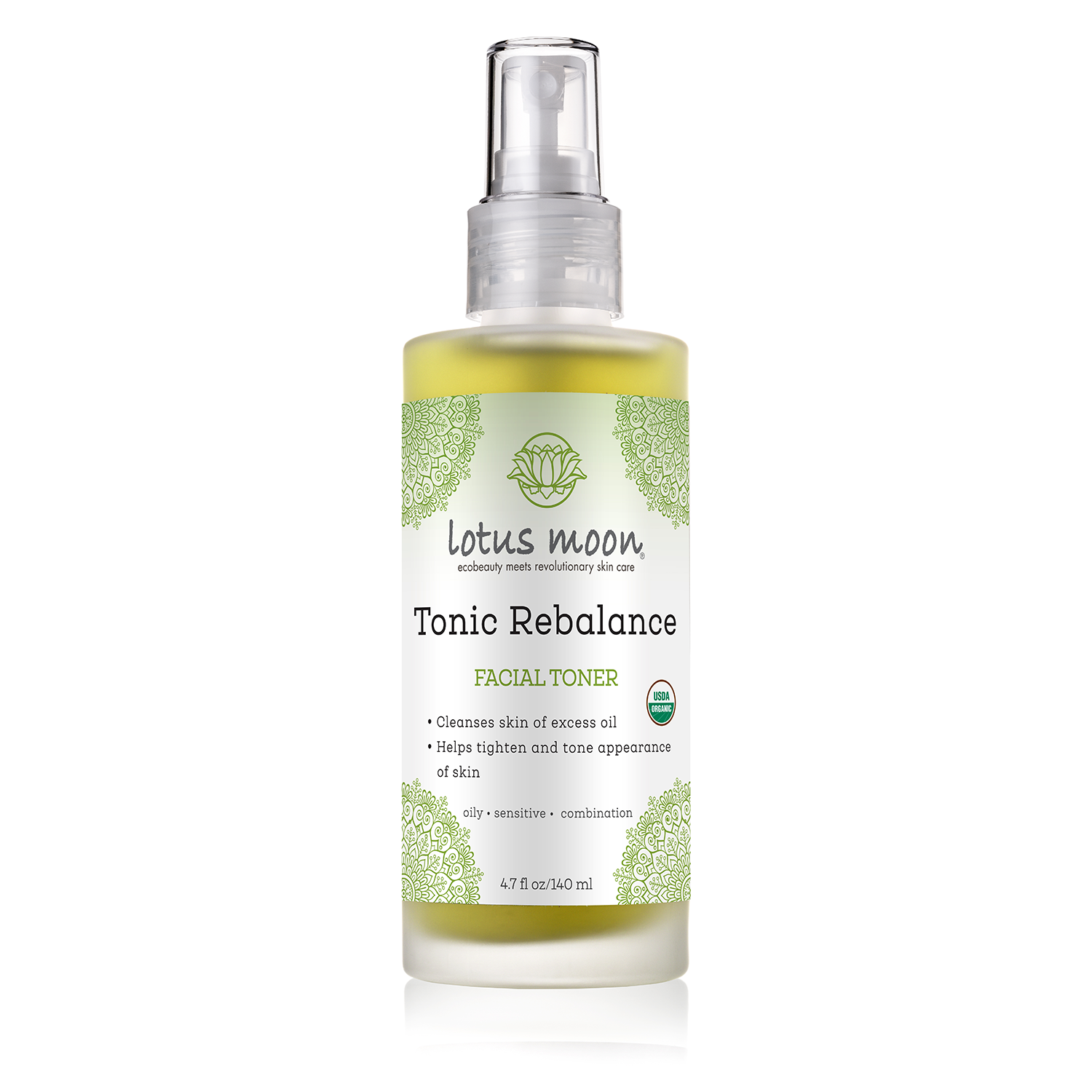 ⭐️⭐️⭐️⭐️⭐️ "Perfect tonic! For my mature, combination oily-dry skin, Rebalance is the perfect tonic. I use it every morning after cleansing my face". - Judith
Recommended for: Normal - Oily - Combination
ph: 5.5
Features: 100% organic, vegan
Size: 4.7 oz
This organic sweet peppermint infused toner tightens and cools. It is an excellent toner for oily skin and perfect as an aftershave for men.
DESCRIPTION

RITUAL

INGREDIENTS
Tonic Rebalance is based on the organic extraction of five separate plant species: Bilberry, sugar cane, sugar maple, orange fruit, lemon, and cranberry extracts - These extracts when combined provide five of the more commonly used AHA's, glycolic acid, lactic acid, citric acid, malic acid and tartaric acid.
Using Aloe Vera Leaf juice as a base, we blended certified organic extracts containing naturally occurring alpha hydroxy acids to gently exfoliate, cool and comfort the skin.
Aloe Vera – contains almost 20 amino acids, minerals like calcium, magnesium and sodium in sufficient quantities, enzymes, vitamins, polysaccharides, nitrogen and other components that make it a miracle beauty herb. improves the skin's ability to hydrate itself; 
Peppermint Extract - An herb with toning and decongestant properties; relieves skin irritation and itching.  Helps reduce redness and inflammation caused by acne. Cools by constricting capillaries. 
Black Willowbark Extract - Nature's salicylic acid. It helps to release dead skin not just on the surface, but also in the pore lining, where accumulation of pollution, makeup, and sunscreen mix with your natural oils and dead cells.  
Multi Fruit Acid Extracts (bilberry, sugar cane, sugar maple, orange, lemon and cranberry) - gently and naturally exfoliate, hydrating, increase cell turnover and cell production.
Saturate the cotton pad and gently wipe over your face and neck area.
Apply it to the forehead, cheeks, chin and nose, or to the whole face. 
Make sure skin remains dewy, don't wipe it dry
Never rub your skin when applying toner
While skin is still moist, apply appropriate Lotus Moon moisturizer
Aloe Barbadensis (ORGANIC Aloe) Leaf Juice, Mentha Piperita (ORGANIC Peppermint) Extract, Glycerin, Salix Nigra (ORGANIC Black Willowbark) Extract, Vaccinium Myrtillus (ORGANIC Bilberry) Extract, Saccharum Officinarum (ORGANIC Sugar Cane) Extract, Acer Saccharinum (ORGANIC Sugar Maple) Extract, Citrus Auranium Dulcis (ORGANIC Orange) Fruit Extract, Citrus Meedica Limonum (ORGANIC Lemon) Extract, Vaccinium Macrocarpon (ORGANIC Cranberry) Extract.