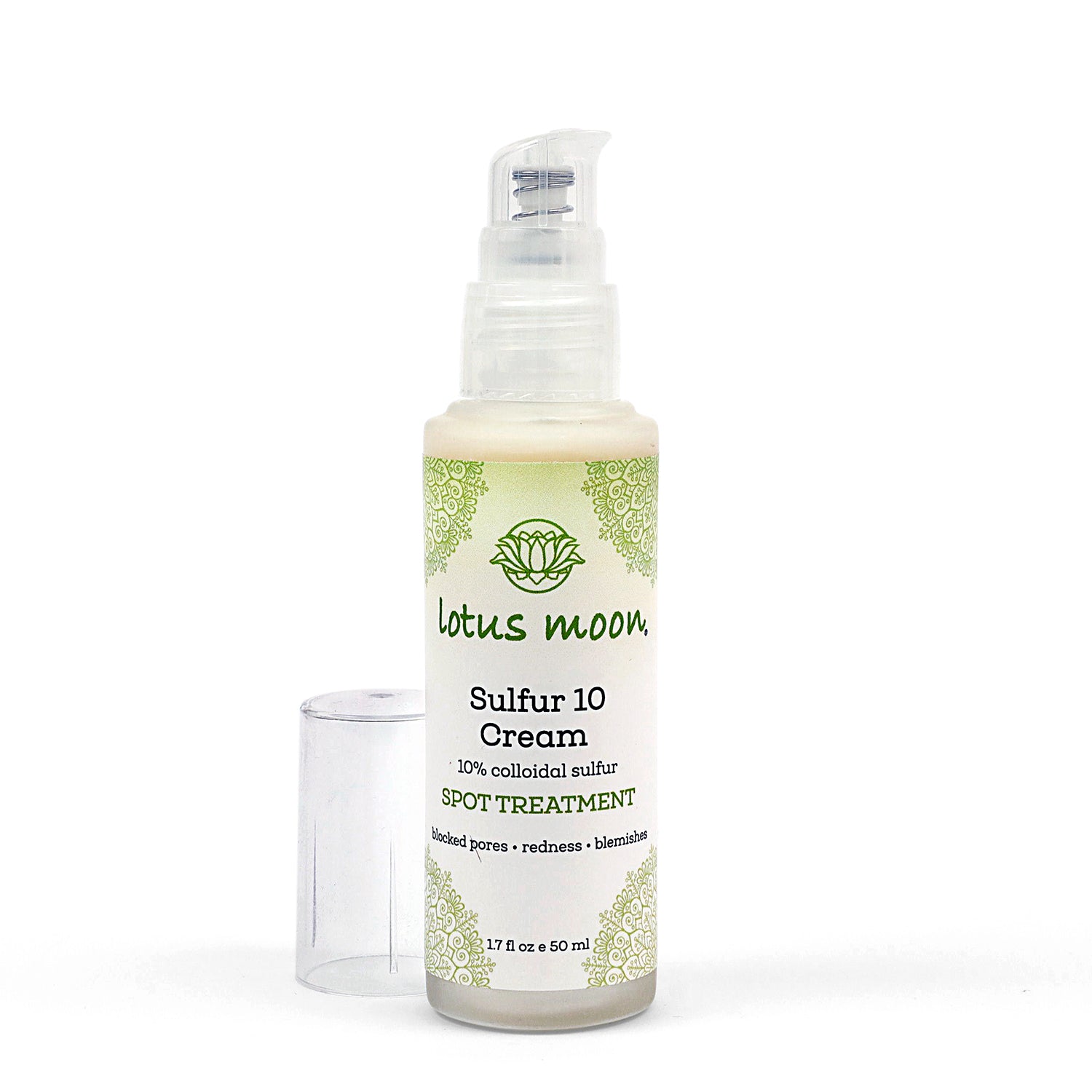 ⭐️⭐️⭐️⭐️⭐️ "This cleared my rosacea and acne whereas the prescriptions from the dermatologist did not AND it is cruelty free. I am super grateful for this product. I no longer have rosacea but always have this on hand for any blemishes that appear. I expect to smell some sulfur in a product that has sulfur in it (I would have doubts that enough is in it if not), and this one has a slight sulfur smell. I can't smell it after applying it to my face nor has anyone ever stated that they smelled sulfur when close to me." - Andrea N.
RECOMMENDED FOR: Redness – Acne – Clogged Pores - Congestion
pH: 5.0
FEATURES:
77% Organic, 10% Sulfur
Vegan, Gluten Free
BENEFITS:
Kills bacteria
Reduces oil production
Sloughs away dead skin
PLEASE NOTE: Due to the high % of sulfur content this product smells like sulfur. This product is designed to draw out the toxins and bacteria for problem skin. We did not try to cover the scent of this product with an essential oil.
This product can also be used as a facial mask. Combine with honey Mask. Leave on for 20 minutes and rinse.
MORE INFO

RITUAL

INGREDIENTS
Sulfur is absorbent, it draws sebum, pollutants, impurities, and bacteria out of skin while you are sleeping. Pores will appear reduced, blackheads will be minimized, and overall clarity will be enhanced.
Sulfur improves acne, rosacea and other skin inflammations both proactively and retroactively.
Sulfur also helps to clarify the skin, banish excess oil, minimize pores, and help prevent and heal blemishes.
This pairs perfectly with our Organic Honey Mask.
Aloe Vera – contains almost 20 amino acids, minerals like calcium, magnesium and sodium in sufficient quantities that make it a miracle beauty herb; improves the skin's ability to hydrate itself; 
Colloidal Sulfur – one of the oldest known acne treatments; reduces acne blemishes and absorbs oil. Inhibits pores from becoming blocked in the future as well as minimizing oiliness overall.
Blue Green Algae – a wild harvested organic certified most nutrient rich and bio-active of all algaes which occurs in the remote area in the Oregon Cascade Mountains, in the Klamath Falls; is highly bio-available, and is the purest, most nutrient intact algae available in the world; crucial for collagen production and has an immediate smoothing effect by connecting to skin cells.
Rooibos Tea Extract – scientists found that Rooibos tea contains a mimic of the enzyme Super Oxide Dismutase (S.O.D.), an antioxidant which attacks the free radicals and limits their damaging effects.
Superoxide dismutase (SOD) is 1 of 4 antioxidant enzymes that exist in the body to protect it from free radical damage. Its protection against UV induced damage reduces collagen breakdown, inflammation and other factors that lead to skin aging such as wrinkles, skin elasticity and hyper-pigmentation.
Oatstraw and Nettle Leaf Extracts – Packed with magnesium and silica, help build collagen in the skin, resulting in a younger, smoother complexion. Its astringent properties give it an acne-fighting boost.
Use as needed. Best used at night.
If overused, irritation may occur.
After cleansing face apply a small amount to areas to be treated.
Can also be used as a facial mask. Leave on for 20 minutes and rinse.
*Aloe Barbadensis (Aloe Vera) Juice, Colloidal Sulfur 10%, *Aspalathus Linearis (Rooibos Tea) Extract, *Olea Europaea (Olive Oil), Cetearyl Glucoside, Cetearyl Alcohol, Vegetable Glycerin, *Camellia Sinensis (Green Tea) Extract, *Urtica Dioica (Nettle Leaf) Extract, *Stellaria Media (Chickweed) Extract, *Ulmus Fulva (Slippery Elm) Extract, *Silybum Marianum (Milk Thistle) Extract, *Althea Officinalis (Marshmallow Root) Extract, *Avena Sativa (Oatstraw) Extract, *Rooibos, *Aphanizomenon Flos-aqua (Blue Green Algae), Salix Alba (White Willowbark) Extract, Pentylene Glycol, Phenoxyethanol, Ethylhexylglycerin, Sodium PCA, *Alcohol, Lactic Acid. *from organic farming.