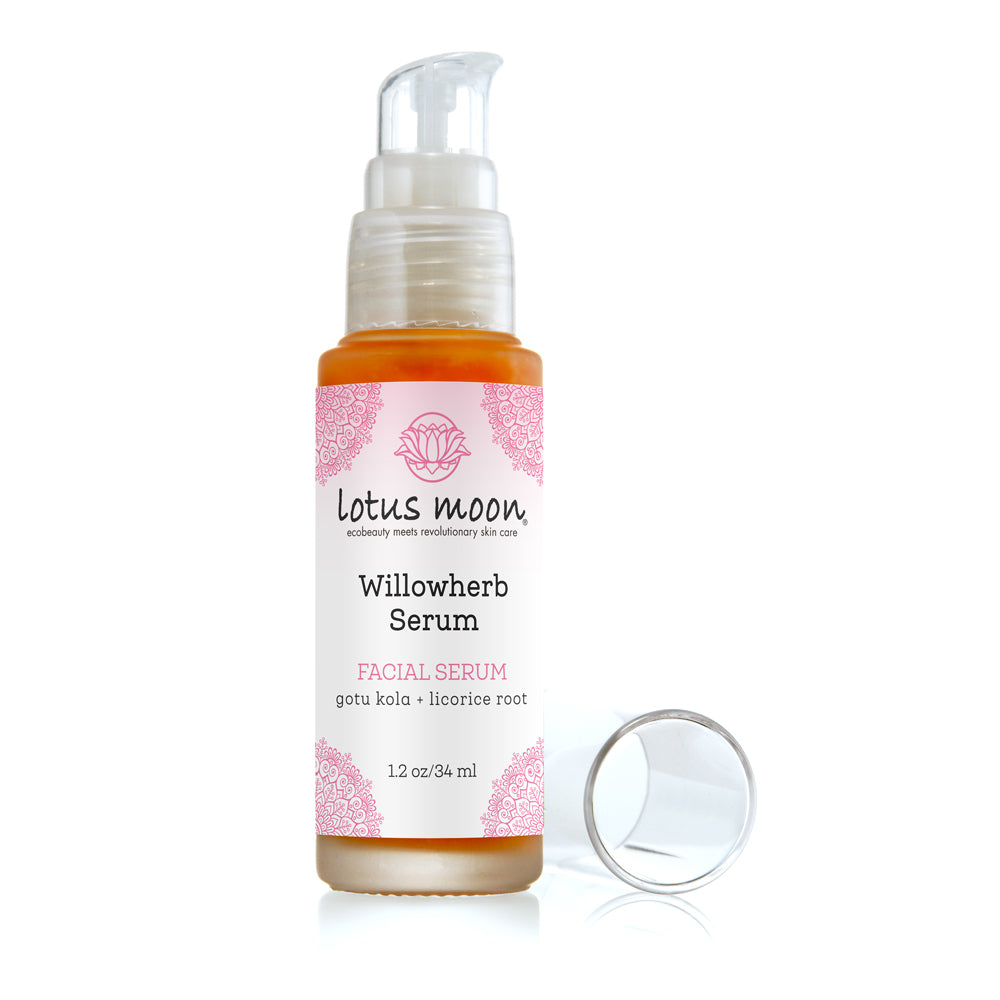 ⭐️⭐️⭐️⭐️⭐️ "My rosacea is a constant battle, but this product is something I truly cannot live without. It's a miracle--truly. It soothes flare-ups and makes my skin look great. Love it!" - Ellen T., Lotus Moon customer
Recommended for: Rosacea - Acne -  Sensitive - Inflammation
pH: 4.5-5
Size: 1.2 oz/34 ml
Features: Vegan, gluten-free
Benefits:
soothes irritation, and acne flareups

calms redness

improves cellular repair
Willowherb is a natural solution for redness, irritation, and acne flareups. This vegan, natural rosacea treatment is designed to reduce skin redness with a gentle touch.
Willowherb, lavender, and sandalwood essential oils instantly soften and soothe irritation. Treat wounded and damaged skin with a blend of anti-inflammatory ingredients and natural antioxidants.
Zinc, folic acid, and gotu kola extract help your skin bounce back faster with increased blood flow and cellular repair.
Our rosacea treatment also includes licorice root and azelaic acid to brighten your skin tone with less redness.
DESCRIPTION

RITUAL

INGREDIENTS
We often get asked the question: Is willowherb good for rosacea?
The answer is a resounding YES!
What makes us most proud of our Willowherb Serum is that it does EXACTLY what it is supposed to. Willowherb Serum is a facial serum that is designed to reduce redness and irritation. 
If you are ever in need of reducing any type of inflammation or redness on the skin this is sure to calm and provide relief.
Willowherb extract is known for its ability to reduce inflammation and help heal 'wounded' skin, it is considered nature's alternative to hydrocortisone and it comes to the rescue.
WHY IT WORKS
Willowherb Extract - excellent natural alternative to hydrocortisone, naturally soothing botanical
Licorice Root Extract - De-pigmenting (natural lightener) effect due to its ability to act as a tyrosinase inhibitor. Natural properties to calm skin
Gotu Kola Extract - The active nutrients found in this plant, not only stimulate the production of collagen, but also increase blood flow to damaged tissues, and increase antioxidants in wounds to provide protection. 
Zinc - Accelerates wound healing. Useful for acne since it lowers sebaceous secretion.
Azelaic Acid - pH balancing, tyrosinase inhibitor, skin brightening
Folic Acid - Aids in cell formation and cellular longevity, promotes growth of new skin cells
Sandalwood essential oil - promotes epidermal cell turnover
Apply small amount to affected areas on clean skin
Allow to absorb before applying moisturizer
Aqua (Water), Glycerin, Azelaic Acid, Epilobium Angustifolium Flower/Leaf/Stem Extract, Glycosaminoglycans, (<1%) Totarol, Folic Acid, Centella Asiatica (Gotu Kola) Extract, Cyanocobalamin, Hamamelis Virginiana (Witch Hazel) Water, Glycyrrhiza Glabra (Licorice) Root Extract, Tocopheryl Acetate (D-alpha), Zinc, Citric Acid, Alcohol Denat., Xanthan Gum, Carvone (D), Polysorbate 20, Sodium Gluconate, Caprylhydroxamic Acid, Sodium Benzoate, Gluconolactone, Benzyl Alcohol.