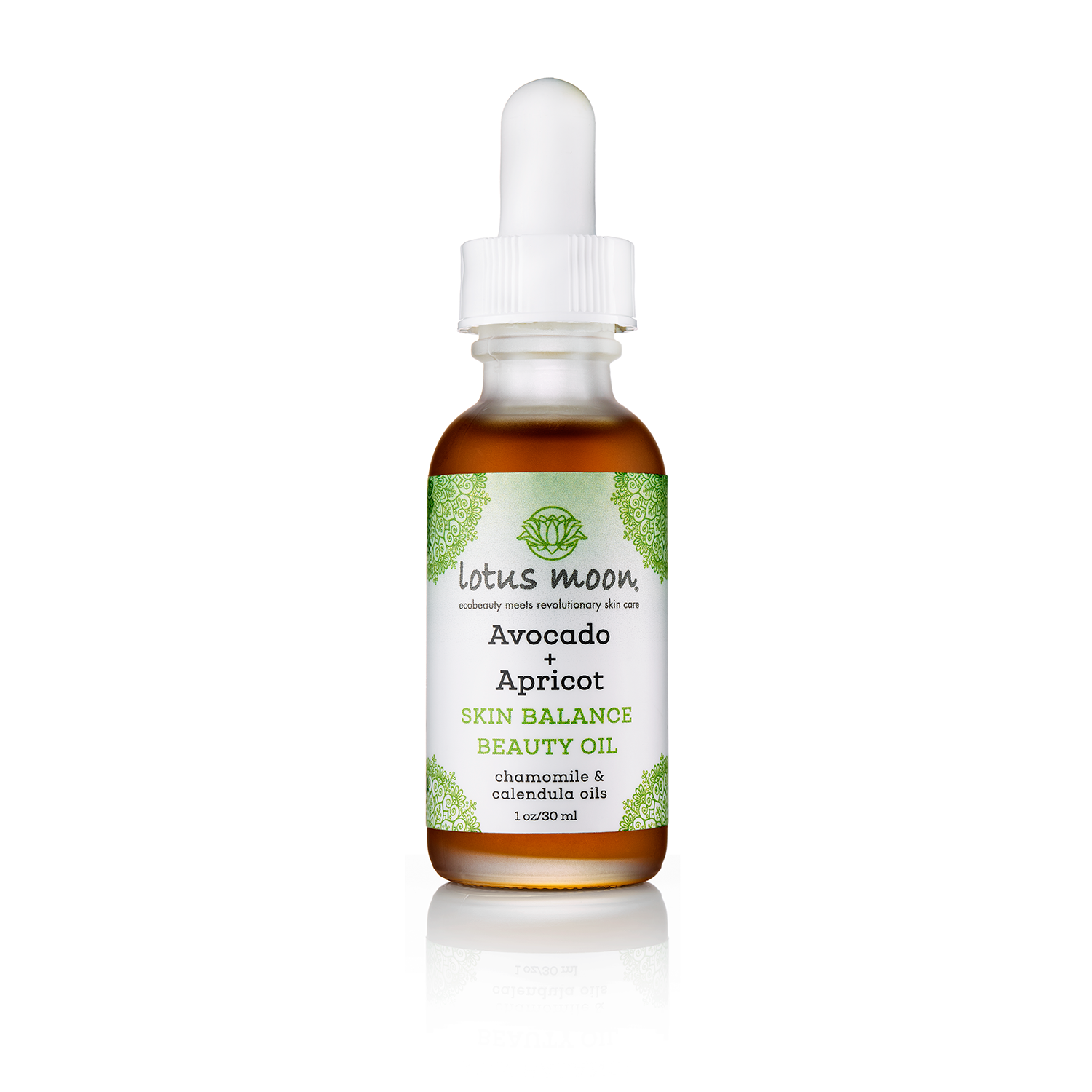 Avocado + Apricot Beauty Oil
⭐️⭐️⭐️⭐️⭐️ "I am in love with this oil!! It's delicate yet mighty. Absorbs beautifully, doesn't take a lot to get you there and it an elegant combination of ingredients. My skin is so happy! I have serious rosacea so if I can use, then so can you (seriously). Try the sample size and, trust me, you'll never go back to anything else". - Anna M.
Recommended for: Dry - Mature - Rosacea
pH: 5.5
DESCRIPTION

RITUAL

INGREDIENTS
If your skin is feeling dry and nothing seems to help...This synergistic blend of cold-pressed and organic plants oils provides a wonderful natural healing remedy for dry skin, while promoting healthy new skin cells.
To further calm the skin, we have added German Chamomile, which produces a soothing effect for dry skin and other irritations.
The 100% pure essential oils in Avocado + Apricot Skin Balance have the remarkable ability to penetrate into the cell membranes to provide relief for dry skin.
Grapeseed Oil– This easily absorbed game-changing oil contains the antioxidant polyphenol, with high concentration of essential fatty acids, and an amazing source of beta-carotene and vitamins D, C, and E..
Apricot Oil – Effective in aiding tissue regeneration, helps prevent scar formation and strengthens blood vessels.  Rich in fatty acids that contain vitamins A and E, this oil also offers oleic and linoleic acids that hydrate and plump cells while protecting against moisture loss.
Avocado oil - This super rich oil is loaded with vitamins A, B1, B2, D, E, protein, pantothenic acid, and fatty acids which keep your skin hydrated, nourished, and soft.
Calendula CO2 – ideal for sensitive skin because it is deeply moisturizing and has potent antibacterial properties while simultaneously soothing and calming inflamed skin.
Frankincense - stimulates new cell growth, anti-inflammatory, antiseptic, helps strengthen connective tissue, encourages skin to heal and reduces both the possibility of infection and scarring.
German Chamomile - has a high content of azulene, the active organic compound of chamomile and alpha bisabolol. Its potent anti-inflammatory skin healing characteristics and bioactive and therapeutic phytochemicals soothe the skin.
Immediately after cleansing massage several drops into fully wet skin, morning and night, Allow your fingertips to stimulate areas of developing lines, dullness, or stagnation.

For maximum results:
massage into clean, WET skin directly after cleansing - skip your towel completely.

follow with a generous spritzing of Tonic Replenish or D20 Hydra Mist to enhance penetration of both fat and water-soluble nutrients.
Vitis vinifera (ORGANIC Grapeseed) Seed Oil, Persea gratissima (ORGANIC Avocado) Oil, Prunus armeniaca (ORGANIC Apricot Kernel) Oil, Olea europea (ORGANIC Olive) Oil, Calendula officinalis (ORGANIC Calendula Flower) CO2, Boswellia carteri (Frankincense) Oil, Matricaria recutita (ORGANIC German Chamomile) Oil.