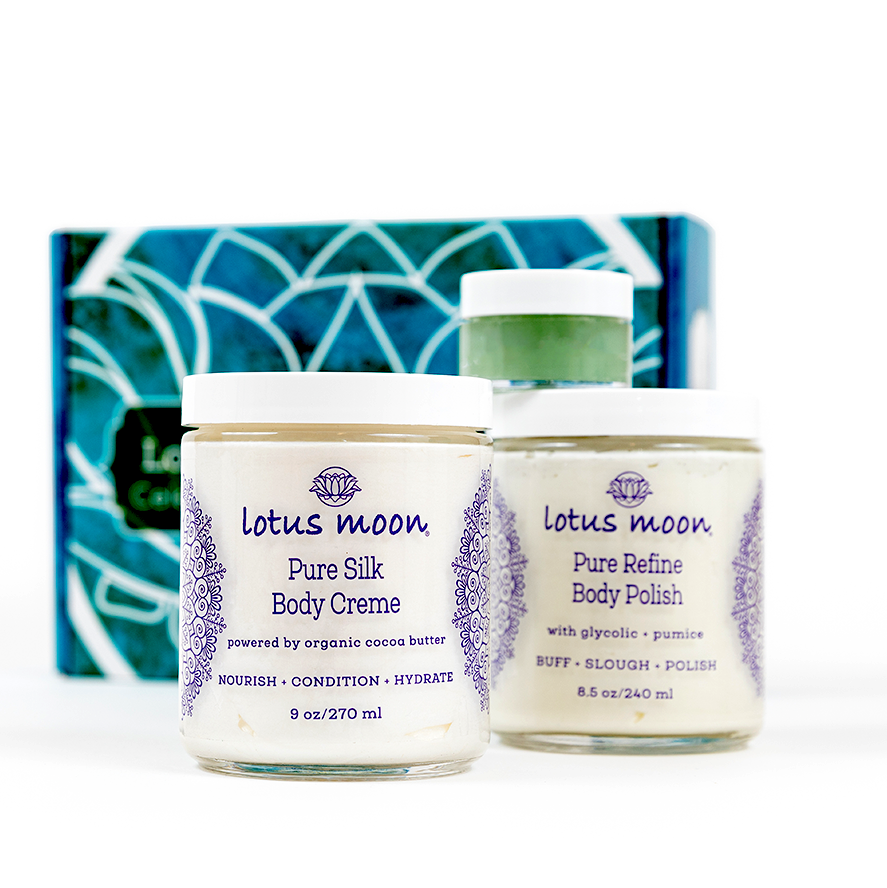 Give yourself or someone you love an at-home body treatment with this luxurious body and sole ritual.
Recommended for: All skin types
Features: 4% glycolic, plant-based, ground pumice, organic cocoa butter
Packaging: Glass jars that can be reused/repurposed once empty.
Benefits:
Removes dead skin cells to reveal softer, smoother skin
Hydrates the skin deeply
Improves circulation
DESCRIPTION

RITUAL

INGREDIENTS
Our Body + Sole Retreat is made to polish and moisturize with smoothing exfoliation and quenching hydration to keep skin glowing.
Lotus Moon's Body and Sole Retreat gift set is perfect for anyone on your list…
It's like a facial for the whole body.
Gently exfoliates and leaves skin feeling silky smooth
Smells wonderful and totally hydrates dry skin
Makes skin look and feel incredibly soft and toned !
Gift Set includes:
Pure Refine Body Polish: [8.5 oz glass jar] Soften dry, bumpy skin. Pure Refine smooths away rough areas with a circulation-boosting blend of glycolic and pumice powder to keep your body and feet beach ready! We see you summer 2023... It also doubles as a great pedicure even when you don't have time to go to the spa! 

Pure Silk Body Creme: [9 oz glass jar] The Pure Silk Body Creme glides on like silk for a magical moment of self care. A body moisturizer crafted from a blend of cocoa butter and botanical oils... smells and feels like dessert!
This supercharged formula works to restore dull, dry, and irritable skin to a healthier and more balanced state helps nourish and soften skin without making it greasy. 

Deluxe Sample of Heel the Sole: [1/2 oz jar] An invigorating foot treatment that conditions, purifies and smooths to reveal satiny-soft feet.
This therapeutic essential oil blend penetrates the skin very quickly and is very rich and concentrated.
Gift Box
Treatment Card
Step 1: Massage Pure Refine Body Polish gently onto dry skin and rinse off in the shower or bath. This is your essential pre-shower exfoliating treatment to buff and polish skin.
Step 2: Post-shower, apply Pure Silk Body Creme onto damp skin. This cocoa butter rich treatment provides complete nourishment for soft, glowing skin.
Step 3: Once your skin has absorbed the body creme... you're now ready to treat your sole.
Pure Refine Body Polish
Organic Aloe Juice, Organic Palm Oil, Apricot Kernel Oil, Emulsifying Wax, Palm Stearic Acid, Pumice, Glycolic Acid, Vegetable Glycerin, Tocopherol (Vitamin E), Extracts of: Organic Green Tea, Organic Bilberry, Organic Sugar Cane, Organic Sugar Maple, Organic Orange, Organic Lemon, Organic Cranberry,  Sorbic Acid, Tartaric Acid, Malic Acid, Mango Butter, Organic Shea Butter, Xanthan Gum, Willow Bark Extract, Neem Oil, Rosemary Extract, Pink Grapefruit Essential Oil, Phenoxyethanol, Caprylyl Glycol.
--------
Pure Silk Body Creme
Water, Organic Cocoa Butter, Organic Coconut Oil, Emulsifying Wax, Glycerin, Vitamin E, Sunflower Seed Oil, Organic White Willow Bark Extract, Organic Neem Seed Oil, Organic Rosemary Leaf Extract, Organic Sunflower Seed Oil, Organic Alcohol, Xanthan Gum, Phenoxyethanol, Tetrasodium Glutamate Diacetate

------
Heel the Sole Foot Balm
Grapeseed Oil, Yellow Beeswax, Organic Coconut Oil, Peppermint Oil, Eucalyptus Leaf Oil, Rosemary Leaf Oil, Sweet Basil Oil, Spearmint Oil, Lavender Flower Oil, Ginger Root Oil, Ravensara Oil, Cinnamon Leaf Oil, Lemongrass Oil, Helichrysum Oil, Blue Tansy Oil, Roman Chamomile Flower Oil.