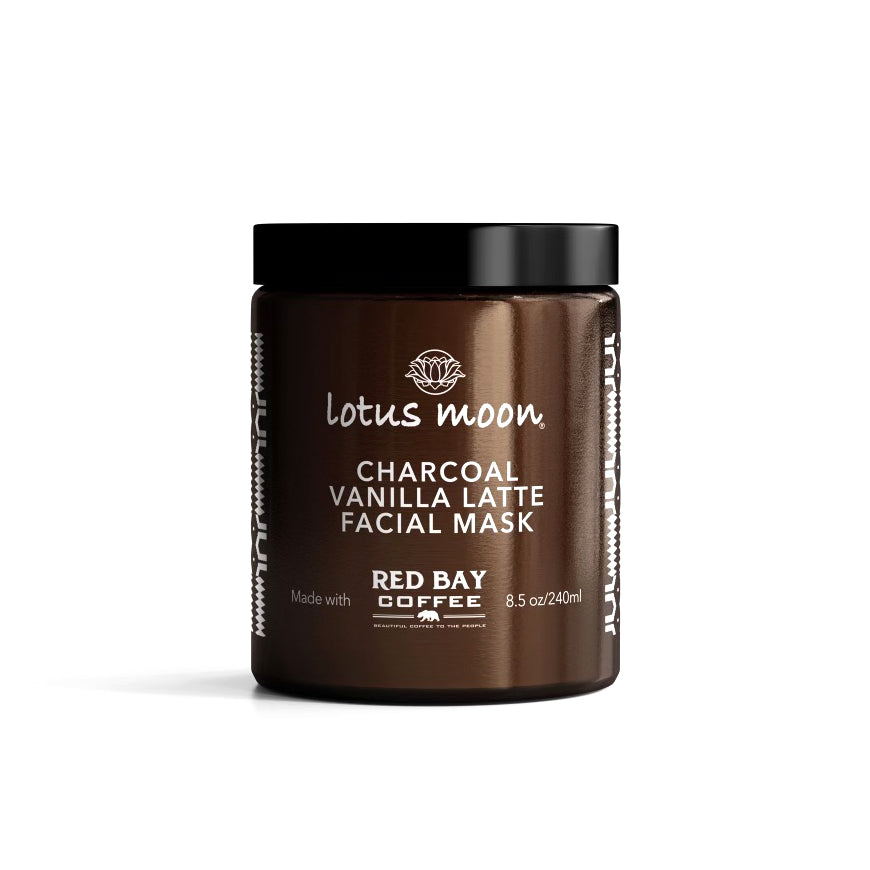 Charcoal Vanilla Latte Facial Mask
*** LIMITED RELEASE ***
Recommended for: Oily - Combination - Sensitive
Features: powder, plant-based, gluten-free
Size: 4oz/126gr (up to 15 applications)
Benefits:
Brightens skin
Protects skin from breaking out
Restores the skin balance
Oxygenates skin cells
Regulates sebum production
Brighten your skin and remove impurities with our NEW Charcoal Vanilla Latte Face Mask.
This detox face mask is the dynamic collaboration between Lotus Moon Skin Care and Red Bay Coffee – sister and brother family businesses with a passion for purity.
The formation of their new product, Charcoal Vanilla Latte Facial Mask, is a peek into Black history. It blends Red Bay's Carver's Dream coffee -- named after George Washington Carver...
...who was born enslaved and became one of the most prominent scientists and inventors of his time, as well as a teacher at Tuskegee -- with clays, activated charcoal, vanilla, and other plant-based, skin-loving powders selected from Lotus Moon's ingredient vault.
Activated charcoal draws toxins out of your skin and binds with dirt, excess oil, and other residue, so you can easily rinse away the day. Reveal glowing, fresh skin with a softer finish.
When you add water and stir a soft, rich mousse forms as you watch the charcoal mask fizz to life.
We've combined anti-inflammatory extracts with antioxidant-rich botanicals to soothe and restore. Cacao, cinnamon, nutmeg, vanilla, and coffee powder increase blood flow with a punch of natural caffeine.
Take it to the next level and apply our Organic Honey Mask on top.
Activate ½ - 1 measured tablespoon powder with just equal parts water
Stir to form a soft, rich mousse as you watch the charcoal mask fizz to life.
Smooth over clean skin and relax 15-25 min.
Rehydrate the mask to wash it away easily as you massage skin with the pads of your fingertips.Simply add equal parts water to powder
Moroccan Lava (Rhassoul) Clay, Organic Cacao Fruit Powder, Charcoal Activated Bamboo Powder, Cinnamon Bark Powder, Nutmeg Powder, Sea Salt, Ascorbic Acid (Vitamin C), Sodium Bicarbonate, Organic Vanilla Seed Powder, Coffee, Organic Lavender Flower Powder, Marshmallow Root, Frankincense Powder, Kaolin (Red Alaea) Clay, Organic Gotu Kola Powder, Organic Turmeric Root Powder