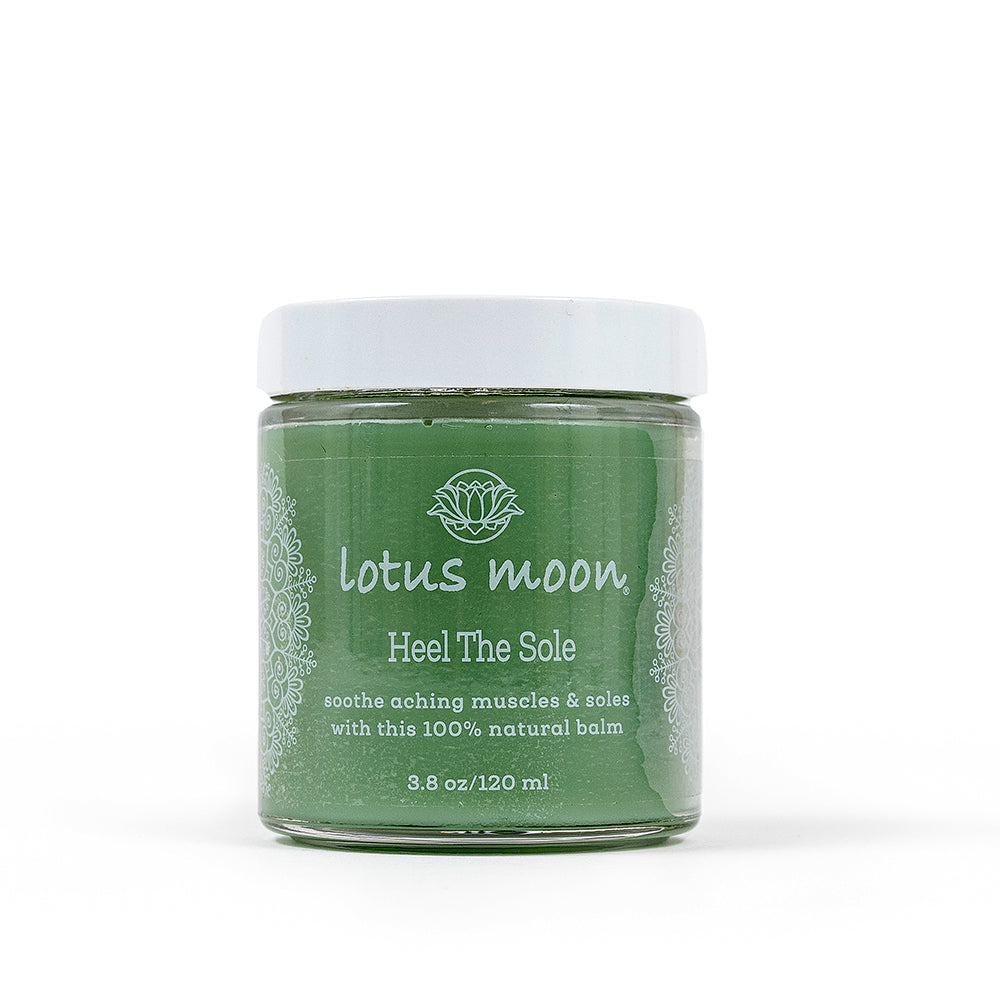 Heel The Sole (foot balm)
Recommended for: All types of feet
Features: plant-based, all natural,
Benefits:
helps feet circulation

better sleep

improves mood

Amplify your energy levels and boost blood circulation by massaging clean feet every evening.
Heel the Sole is the botanical version of Vick's Vapor Rub.... you know... the one your parent would rub on your chest when you were feeling congested...
FOR SLEEP
A foot massage signals to our body that it's time to power down and heal up. So it's our biology—not our lack of sleep—that makes it likely that a good foot massage will make us drowsy.
FOR MOOD
A foot massage gives us energy by releasing any blockages that hold back energy and helps relieve symptoms of stress and fatigue.
Regular foot massage of 5 to 10 minutes before going to bed can improve feelings of general well-being, which improves our mood. 🥰
MORE INFO

RITUAL

INGREDIENTS
Invigorating essential oils burst to life as you soften the balm between your fingertips. Peppermint, cinnamon, spearmint, eucalyptus, and ginger root oil balance warm energy and cold relief.
Massage aching muscles and relieve tension in your feet to walk into a healthier state of being. .
Cold feet are often caused by poor circulation, (unless of course they're bare foot in the snow).
Grapeseed Oil– This easily absorbed game-changing oil contains the antioxidant polyphenol, with high concentration of essential fatty acids, and an amazing source of beta-carotene and vitamins D, C, and E..
Coconut Oil – High Vitamin E content; contains antimicrobial and antifungal properties; Its moisture retaining capacity makes it an ideal protective agent against cracking of the skin.
Peppermint - calming, soothing and healing to the skin. Also tightening and antibacterial while stimulating circulation.
Cinnamon – stimulating, antiseptic - cinnamon infuses warmth and energy throughout your body; applied topically for sore and painful muscles and joints;  is very warming and may increase circulation, blood flow to the brain and energy levels when used aromatically.
Use as often as needed.
You can massage on to tired muscles and feet whenever you want, but a beneficial time to apply it is after a shower, when the skin is still moist (but not wet).
Put on socks afterward and go to bed. This ensures your skin has enough time and ability to really absorb the product as you sleep...
Grapeseed Oil, Beeswax, Organic Coconut Oil, Peppermint Oil, Eucalyptus Leaf Oil, Rosemary Leaf Oil, Sweet Basil Oil, Spearmint Oil, Lavender Flower Oil, Ginger Root Oil, Ravensara Oil, Cinnamon Leaf Oil, Lemongrass Oil, Helichrysum Oil, Roman Chamomile Flower Oil, Blue Tansy.