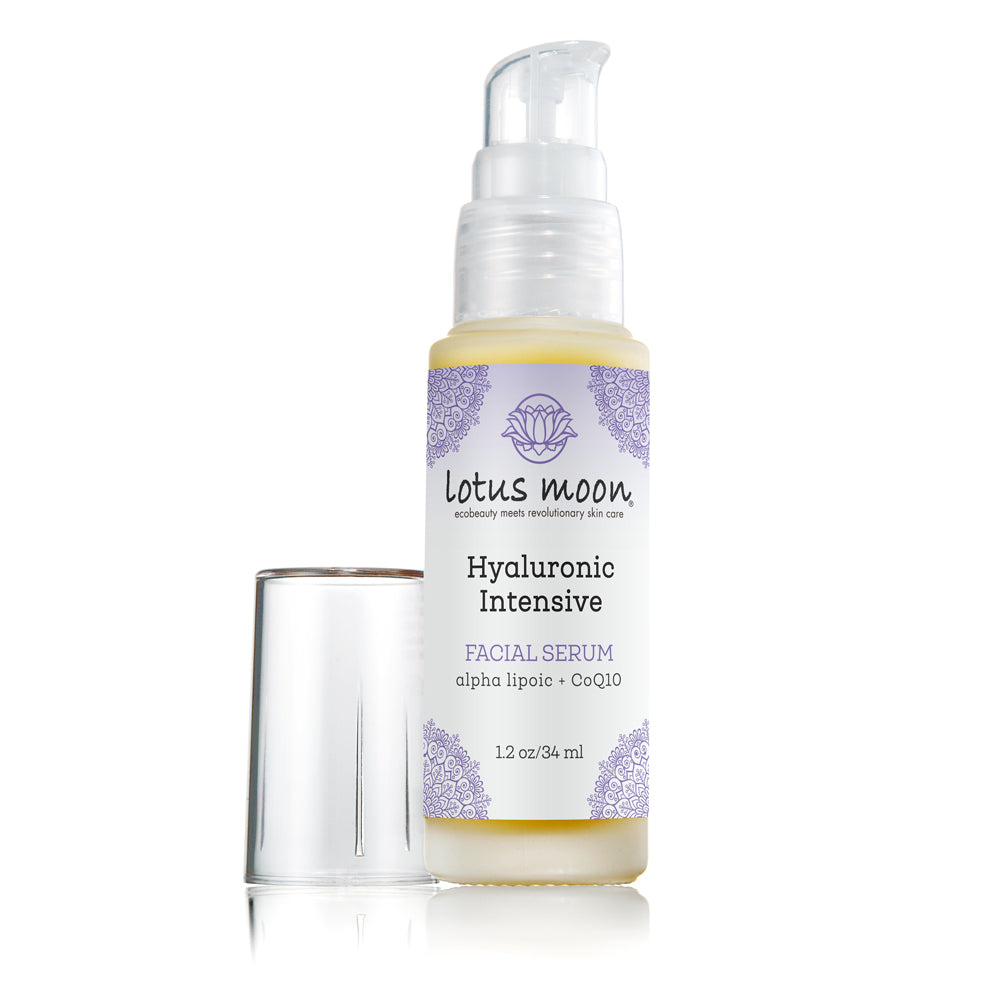 ⭐️⭐️⭐️⭐️⭐️  "Plumped and hydrated! After pregnancy my skin was left dry and looking not so nourished. My best friend let me use her's and I was hooked. I bought my own bottle and now my skin feels plumped and so hydrated. Now I can't go a day without it. I use it day and night.!" Veronica B. , Lotus Moon customer
Skin Types: All - Sensitive - Mature
pH: 5.5
Features: plant-based, vegan
DESCRIPTION

RITUAL

INGREDIENTS
Our Hyaluronic Intensive is all that, and then some! It is power packed with the important skin ingredients of hyaluronic acid, DMAE, vitamin A, B, C and E, CoQ10 and Alpha Lipoic Acid along with certified organic multi-fruits extracts and the wonder oil meadowfoam.
We call this the Antioxidant Bootcamp for the skin!
What makes this so great is that it is literally overflowing with powerful antioxidants, which is important in helping to reduce and prevent damage from free radicals. It works on so many levels.
The perfect antioxidant solution for the skin support you need!


WHY YOUR SKIN WILL LOVE IT:
Vitamin C Ester is well known and long documented antioxidant that protects the surface of the skin from free radicals that can damage the skin.
Alpha Lipoic Acid is one of the most powerful of antioxidants. It is able to benefit both the water and lipid portions of the skin. It helps repair skin cells, slow damage, and reduce wrinkle formation. It can enhance the function of other antioxidants.
CoQ10 helps to protect skin from oxidative stress. All of these ingredients work as a synergetic blend to nourish the skin. 
Niacinamide is the biologically active form of niacin, Vitamin B3. Niacinamide (Vitamin B3) increases the rate of skin exfoliation and increases moisture barrier repair. 
Pro-Vitamin B5 (dl-Panthenol) a humectant effective at counteracting the dryness that occurs in aging skin and increases the moisture retention capacity of the skin which allows dry skin to stay supple and elastic longer. Niacinamide and Panthenol improve the condition of the skin's moisture barrier, a function considered by dermatologists as critical to healthy skin.
Apply a small amount to face and neck every morning and evening.
Use sparingly, a little goes a long way.
Rosa damascena (Rose) Distillate, ORGANIC Aloe barbadensis Juice, Glycerin, Dimethylaminoethanol (DMAE), Brassica Glycerides, Cetearyl Glucoside, Cetearyl Alcohol, Limnanthes Alba (Meadowfoam) Seed Oil, Vaccinium Myrtillus (ORGANIC Bilberry) Extract, Saccharum Officinarum (ORGANIC Sugar Cane) Extract, Acer Saccharinum (ORGANIC Sugar Maple) Extract, Citrus Auranium Dulcis (ORGANIC Orange) Fruit Extract, Citrus Medica Limonum (ORGANIC Lemon) Extract, Vaccinium macrocarpon (ORGANIC Cranberry) Extract, Tocopherol (Vitamin E), Sodium Hyaluronate (Hyaluronic Acid), Ascorbyl Palmitate (Vitamin C Ester), CoQ10, Beta Carotene (Pro Vitamin A), Alpha Lipoic Acid (DL- Thioctic Acid), d-Calcium Pantothenate (Panthenol Vitamin B5), Niacinamide (Vitamin B3), Daucus Carota (Carrot) Oil, Lecithin, Xanthan Gum (Polysaccharide gum), Caprylhydroxamic Acid, Glyceryl Caprylate, Citric Acid.