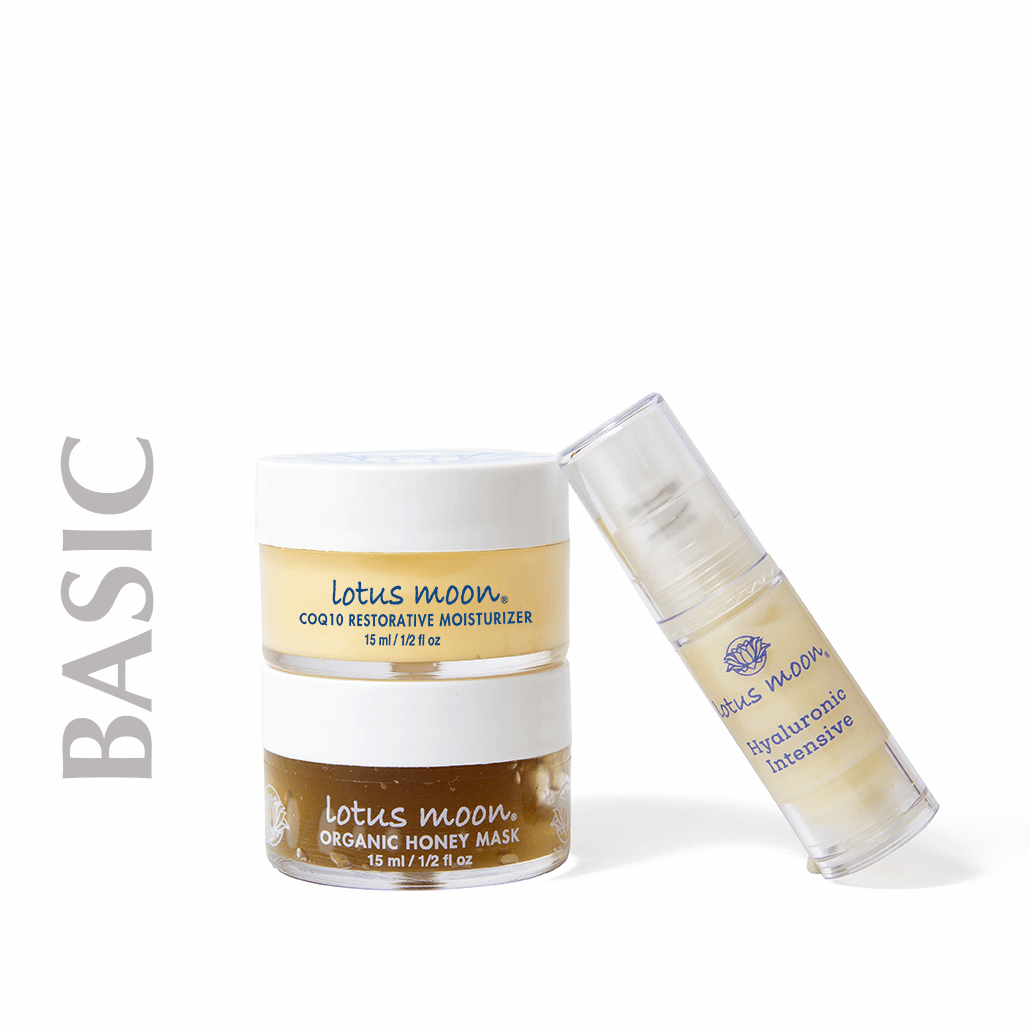 In Balance Discovery Kit (Basic)
DESCRIPTION

RITUAL

INGREDIENTS
Ultimately, menopausal skin has a little bit of everything going on and it can be confusing and frustrating when our skin begins to change.
This set is a great place to start if you're looking to provide immediate relief for dry skin.
It is possible to address many of our skin concerns with a consistent routine by customizing the treatment to balance the skin and to prevent future issues.
The expected result of the following routine is improved skin texture and clarity and increased moisture and hydration.
This set promotes hydration and antioxidant protection.
Set includes:
CoQ10 Restorative Moisturizer - 1/2 oz
Organic Honey Mask - 1/2 oz
Hyaluronic Intensive - 5 ml
IN THE MORNING: Cleanse & Tone your skin in the morning


Step One: Cleanse with Amaranth Gentle Cleanse. On damp skin, apply a nickel-size amount of gel, work through in circular motions and rinse well. Pat skin dry and immediately follow with toner.
Step Two: Saturate a cotton round with Toner. Wipe over the entire face, leave damp on skin and proceed to Step 3. By leaving the skin damp with toner, you are giving your skin a drink of water, which is essential for keeping skin calm and hydrated.
Step Three: Apply a thin layer (dime-size amount) of Hyaluronic Intensive.
Step Four: Apply a thin layer (dime-size amount) of CoQ10 Restorative Moisturizer to the entire face including neck.
CoQ10 Restorative Moisturizer:
Water (Aqua), *Sal (Shorea robusta) Butter, Propanediol, Coenzyme Q10 (Ubiquinone), Lecithin, Astaxanthin Oleoresin, *Seabuckthorn (Hippophae rhamnoides) Berry Extract, Tocopherol, Sodium Copolymer, Caprylhydroxamic Acid, Glyceryl Caprylate, Glycerin. *certified organic
ORGANIC Honey, Aspalathu lineans (ORGANIC Rooibos Tea) Extract, Aloe barbadensis (ORGANIC Aloe) Juice, Xanthan Gum (Polysaccharide gum), Simmondsia chinensis (ORGANIC Jojoba) Oil, Tocopherol (Vitamin E), Avena sativa (ORGANIC Oat) Extract, Rosmarinus officinalis (ORGANIC Rosemary) Oleoresin, Azadirachta indica (ORGANIC Neem) Extract.
Rosa damascena (Rose) Distillate, Aloe barbadensis (Organic Aloe Vera) Juice, Glycerin, Dimethylaminoethanol (DMAE), Emulsifying Wax, Limnanthes Alba (Meadowfoam) Seed Oil, Sodium Hyaluronate (Hyaluronic Acid), Niacinamide (Vitamin B3), Vaccinium Myrtillus (Organic Bilberry) Extract, Saccharum Officinarum (Organic Sugar Cane) Extract, Acer Saccharinum (Organic Sugar Maple) Extract, Citrus Auranium Dulcis (Organic Orange) Fruit Extract, Citrus Medica Limonum (Organic Lemon) Extract, Vaccinium macrocarpon (Organic Cranberry) Extract, Tocopherol (Vitamin E), Ascorbyl Palmitate (Vitamin C Ester), CoQ10, Beta Carotene (Pro Vitamin A), Retinol Palmitate (Vitamin A), Alpha Lipoic Acid (DL- Thioctic Acid), d-Calcium Pantothenate (Panthenol Vitamin B5), Daucus Carota (Carrot) Oil, Lecithin, Xanthan Gum (Polysaccharide gum), Caprylhydroxamic acid, Glyceryl Caprylate, Citric Acid