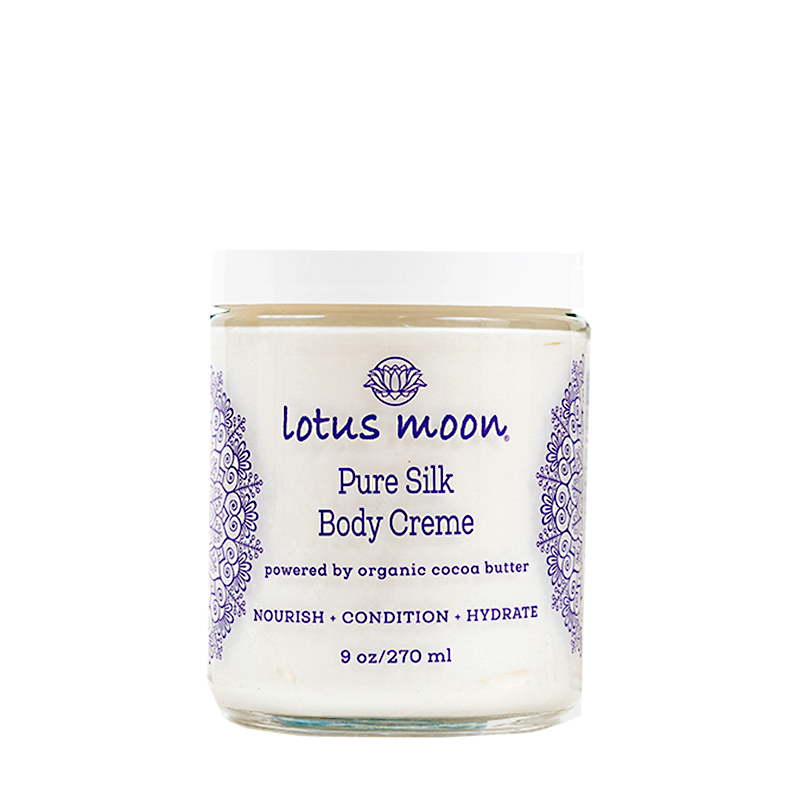 Pure Silk Body Creme - Natural Body Moisturizer For Dry Skin
Size: 9 oz
Features: glass jar packaging, plant-based, vegan, lots of cocoa butter
Benefits:
Smells wonderful and totally hydrates dry skin
Makes skin look and feel incredibly soft and toned
DESCRIPTION

RITUAL:

INGREDIENTS:
Butter yourself up!
The Pure Silk Body Creme glides on like silk for a magical moment of self care.
A body moisturizer crafted from a blend of cocoa butter and botanical oils... smells and feels like dessert!
This supercharged formula works to restore dull, dry, and irritable skin to a healthier and more balanced state.
It helps nourish and soften skin without making it greasy.
Lotus Moon is not just for the face…starting with what skin already loves.
Whether it's the arms and legs, or the cheeks, all skin deserves to be treated with healthy, effective ingredients that are safe, nourishing, and compatible with its natural pH.
100% free of sulfates, silicones, essential oils, fragrance, dyes, and drying alcohols.
Ideal when used in combination with Pure Refine Body Polish.
Apply all over body until absorbed. May also be applied to wet skin.
Water, Organic Cocoa Butter, Organic Coconut Oil, Emulsifying Wax, Glycerin, Vitamin E, Sunflower Seed Oil, Organic White Willow Bark Extract, Organic Neem Seed Oil, Organic Rosemary Leaf Extract, Organic Sunflower Seed Oil, Organic Alcohol, Xanthan Gum, Phenoxyethanol, Tetrasodium Glutamate Diacetate.