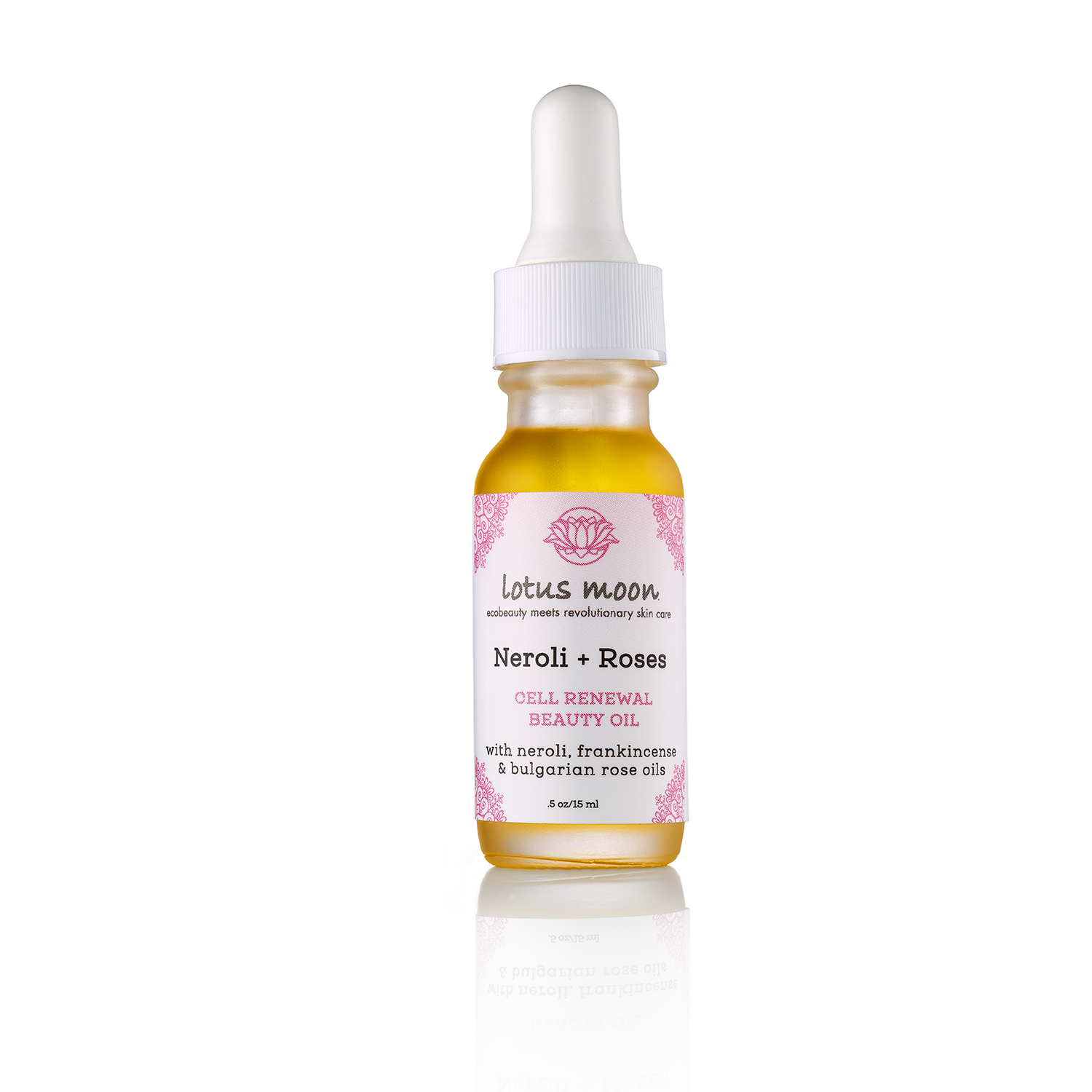 ⭐️ ⭐️ ⭐️ ⭐️ ⭐️ "I literally close my eyes every time I use the serum, it feels like I am being swept away to a calming peaceful destination". - Arianne P.
Recommended for: All - Mature - Combination - Sensitive
pH: 5.5
Size: 1/2 oz
Features: organic, vegan, plant-based
This sweet and fragrant facial serum is delicately balanced with neroli, rose and lavender essential oils. The nutrient rich plant oils nourish and tone skin suffering from overexposure to the elements.

MORE INFO

RITUAL

INGREDIENTS
Our organic jojoba oil is a magnificent skin regenerative oil because of its close resemblance to our skin thus acting as a natural protectant and regenerative for the skin's surface.
The cost of certified organic rose and neroli essential oils have skyrocketed, but we didn't want to see this product disappear. In order to continue offering this exquisite blend it is now available in a 1/2 oz size. 
Did you know that it takes around 10,000 lbs of rose petals to distill one pound of oil?
Did you also know that it takes approximately 100 lbs of blossoms to produce 1 lb of neroli essential oil?
Neroli helps regulate activity of the capillaries and restore vitality to the skin, helps control overproduction of sebum; helps to improve mood and calm the mind. It is one of the best oils for the face as it helps regenerate skin cells.
Bulgarian Rose Oil is recognized for its nourishing, conditioning, balancing and anti-aging effects on the skin. It gives a boost of revitalization to lackluster skin with mild astringent properties that help to balance the skin's overall tone, by reducing redness.
Lavender is one of the great multi-taskers in the world of essential oils. It promotes good circulation is anti-bacterial; is a powerful anti-aging ingredient that helps decrease wrinkles in the skin, as well as inhibits muscle fibers from contracting.
Frankincense encourages growth of skin cells, encourages skin to heal and reduces both the possibility of infection and scarring
While skin is still moist, massage a few drops of oil onto face, neck and chest.
Alternatively, spritz some tonic into the palm of your hand and add a drop or two of serum, blend together and massage onto face.
This allows oils to penetrate and doesn't leave the skin feeling oily.
Simmondsia Chinensis (Organic jojoba) Oil, Rosa canina (Organic Rosehip) Seed Oil, Lavandula officinalis (Organic Lavender) Oil, Citrus aurantium (Organic Neroli) Oil, Boswellia carteri (CO2 Frankincense) Oil, Rosa damascena (Organic Bulgarian Rose) Oil, Cananga odorata (Organic Ylang Ylang).