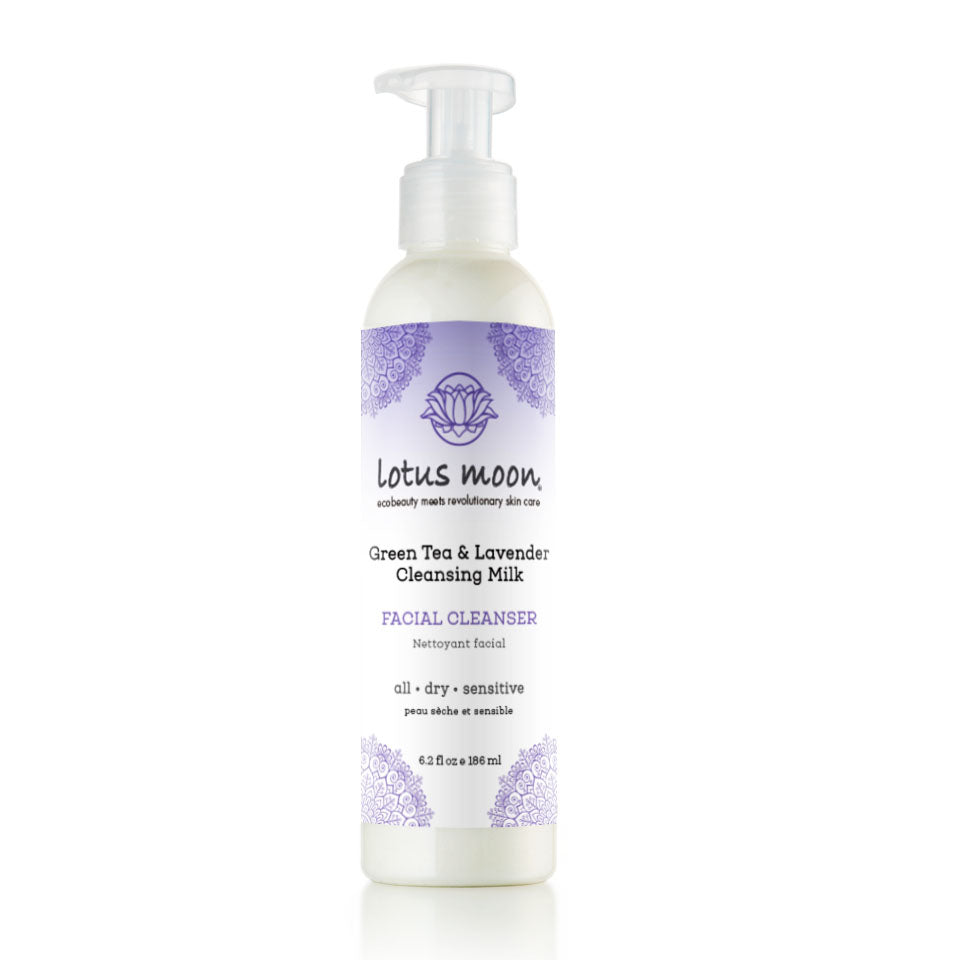 Green Tea & Lavender Cleansing Milk
⭐️⭐️⭐️⭐️⭐️ "This is my tried and true favorite cleanser. I've tried so many and found that most of them dry my face. At my age, it's all about moisture baby! and this cleanser leaves my face feeling clean and also moisturized." Cynthia J., Lotus Moon customer
Recommended for: All
pH: 4.5-5.5
Features: 91% organic, vegan, gluten-free
DESCRIPTION

RITUAL

INGREDIENTS
Green Tea and Lavender Cleansing Milk is a gentle non-foaming facial cleanser that combines an extensive assortment of organic extracts, antioxidants and aromatherapy for an out of this world effective cleansing experience.
It gently removes surface impurities without robbing skin of its natural oils.
Moisturizing effects that leave skin feeling soft, hydrated, and soothed
It gently dissolves oil, makeup and impurities from the pores while Aloe Vera and lavender essential oil provide soothing comfort to calm easily-irritated, sensitive and combination skin.
The light yet heavenly scent, soothes your senses and turns what could be a chore into a delight.
Aloe Vera – contains almost 20 amino acids, minerals like calcium, magnesium and sodium in sufficient quantities, enzymes, vitamins, polysaccharides, nitrogen and other components that make it a miracle beauty herb; improves the skin's ability to hydrate itself; refreshing, healing agent, humectant and emollient, softens skin, soothing
Green, White & Rooibos Tea Extracts - full of beneficial phyto-nutrients that are antioxidant, anti-cancer, energizing, detoxifying and immune-enhancing;
DMAE – extends the life of cells, inhibits the cross linking of proteins, which gives the skin a tone and firm appearance
MSM – naturally occurring nutrient found in plants, fruits, and vegetables. It supplies sulfur to the body, which allows it to heal itself.
Olive Oil – Adds anti-aging protective barrier with its naturally hydrating and regenerative properties.
Lavender Essential Oil - anti-inflammatory, antiseptic, antibacterial, calming properties that promote the healing of scars, dermatitis, acne and eczema. Benefit to dermis is immediate since it easily and rapidly is absorbed by the skin. Is said to normalize any skin type and stimulate cellular growth and regeneration
It is designed to be used every morning and evening.
Simply place a small amount of cleanser onto moistened palms, rub together
Gently massage neck, face and décolleté.
Finally, rinse the skin with lukewarm water or remove with damp cotton cloth
Aloe barbadensis (ORGANIC Aloe Vera) Juice, Olea europaea (ORGANIC Olive) Oil, Aspalathus linearis (ORGANIC Rooibos Tea) Extract, Emulsifying Wax, Glycerin, MSM (Methylsulfonylmethane), DMAE (Dimethylaminoethanol), Camellia sinensis (ORGANIC Green Tea) Extract, Camellia sinesis (ORGANIC White Tea) Extract, Tocopherol (Vitamin E), Xanthan Gum (Polysaccharide gum), Ascorbyl Palmitate (Vitamin C Ester), d-Calcium Pantothenate (Panthenol Vitamin B5), Retinol Palmitate (Vitamin A), Rosmarinus officinalis (Rosemary) Oleoresin, Azadirachta indica (Neem) Oil, Lavendula augustifolia (Lavender) and Cedrus deodora (Cedarwood) essential oils.