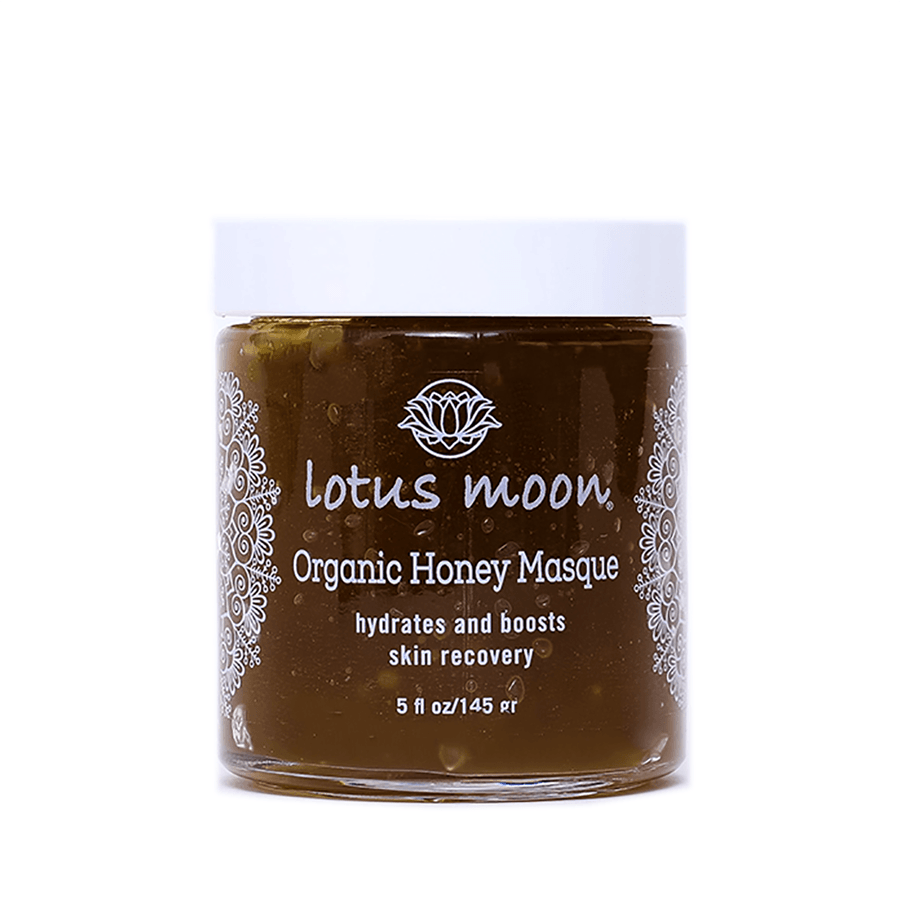 ⭐️⭐️⭐️⭐️⭐️ "I have super sensitive, dehydrated skin that is prone to cystic acne. Whenever I have a cystic breakout I apply this guy for a couple days in a row (or overnight) and it heals breakouts quickly while hydrating and pampering my skin." - Tori W., Lotus Moon customer
Recommended for:
 All - mature - acne-prone - sensitive - dry
pH: 4.5-5
Now in a glass jar and LARGER size!
Organic Honey Masque is super EASY to use and delivers amazing results.
Naturally antibiotic and anti-inflammatory (incredible for sensitive and acne-prone skin); rich in vitamins and enzymes, this remarkably sweet nectar promotes and speeds up the healing and regeneration of soft tissues.
Since honey is a natural humectant, it also attracts and retains moisture, making it a must for treating psoriasis, eczema, dermatitis, and dry skin conditions.
Honey supports the skins' own cell renewal process, assists in the formation of stronger collagen which is responsible for the skins elasticity; Natural anti-bacterial, treats wounds. It contains Hydrogen Peroxide, which it releases slowly, killing any germs that are in the wound. 
DESCRIPTION

RITUAL

INGREDIENTS
Due to the high content of B vitamins found in honey, it is particularly good on oily/problem skin but also an effective treatment for anti-aging, and revitalizing treatments.
Honey attracts the dirt from skin's pores and dead skin cells from the surface of the skin; Aloe vera, when combined with other healing agents, helps these substances penetrate the skin easily, carrying them to the deeper layers of the skin.
In addition, aloe vera contains almost 20 amino acids, minerals like calcium, magnesium and sodium in sufficient quantities, enzymes, vitamins, polysaccharides, nitrogen and other components that make it a miracle beauty herb and improves the skin's ability to hydrate itself.
The anti-inflammatory properties of aloe vera make it useful in the treatment for acne and other dermatological problems. Aloe vera can reduce the irritating effects that radiation has on the skin and has also been found to help accelerate tissue repair and normal cell growth.
Use as often as you wish
Apply a warm washcloth to your face to open the pores
Apply the honey mask, leave for 10- 30 minutes (can be left on overnight), then rinse with warm water
Use after extractions to calm and soothe skin
If mask is too thick, in a separate container add hot water to make it more pliable
ORGANIC Honey, Aspalathu lineans (ORGANIC Rooibos Tea) Extract, Aloe barbadensis (ORGANIC Aloe) Juice, Xanthan Gum (Polysaccharide gum), Simmondsia chinensis (ORGANIC Jojoba) Oil, Tocopherol (Vitamin E), Avena sativa (ORGANIC Oat) Extract, Rosmarinus officinalis (ORGANIC Rosemary) Oleoresin, Azadirachta indica (ORGANIC Neem) Extract.