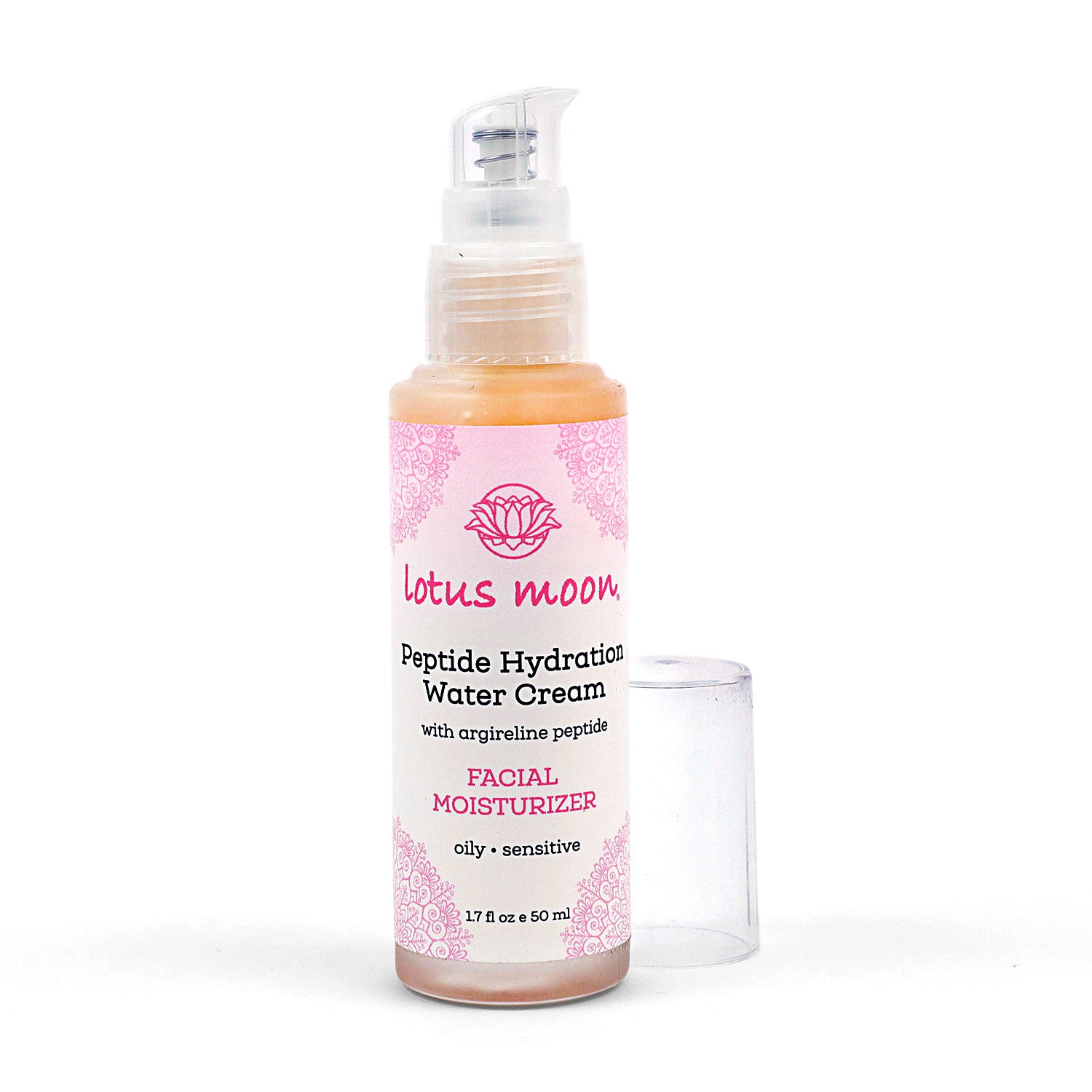 Peptide Hydration Water Cream (formerly High Potency)
⭐️⭐️⭐️⭐️⭐️  "I cannot say enough good things about this product. I have sensitive, rosacea prone skin which despite being in my 60's is still prone to oiliness and clogged pores. I don't do well with heavy facial creams and much prefer a serum type product. This one is perfect for me. I noticed my skin looked better after the first week of using it. It also feels better and the rosacea flush that normally occurs on my face is gone. In addition, my skin is smoother looking and my pores are not clogged. This product is not at all oil or greasy feeling - it goes on smoothly and is absorbed quickly. Needless to say, I am a fan!" - Gadzooks
Recommended for: Oily – Sensitive – Irritated
pH: 5.5
Features: plant-based, vegan, gluten-free
Do you experience skin redness or irritation?
Peptide Hydration Water Cream is a moisturizer designed for oily skin types or those that experience redness and irritation that are in need of something that will calm and nourish the skin.
It is formulated to provide a comforting and calming "blanket" for skin. It infuses skin with moisture and provides antioxidants and supports skin elasticity.
MORE INFO

RITUAL

INGREDIENTS
What are the benefits?
Acetyl Hexapeptide-8 (Argireline) - The first peptide with a specific effect on expression wrinkles. Designed to mimic Botox, but without the injection.
Promotes collagen production and optimizes the function of collagen, which helps to keep fine lines and wrinkles from forming.
Aloe Vera Leaf Juice – contains almost 20 amino acids, minerals like calcium, magnesium and sodium in sufficient quantities, enzymes, vitamins, polysaccharides, nitrogen and other components that make it a miracle beauty herb. improves the skin's ability to hydrate itself;
L-Carnitine - Enhances the cell's ability to hold on to moisture produced and introduced to the skin. Not only does it allow more moisture to enter the cell, but it also strengthens the cell so that it can hold on to that moisture more efficiently.
When cells hang on to their moisture more efficiently, the skin produces less oil, and those with oily complexions can find some relief from this condition.
Corallina officinalis extract - The high concentration of calcium found in Corallina officinalis extract helps to maintain the skin's barrier function since calcium is known to regulate lipid barrier processes. Calcium also controls the rate of cell division in the epidermis.
High concentrations of upper epidermal calcium thereby cause rapid cell turnover, which results in skin that appears healthier with less imperfections (i.e. wrinkles, age spots, etc.)
Squalene – a colorless, odorless and greaseless oil derived from olives that penetrates skin deeply to moisturize, nourish, plump, repair and lubricate;
Glycerin – Effective humectant & moisturizer attracting water to the intercellular space of the skin, protects the lipids of skin cells
Rholiola Rosea – With a high concentration of antioxidant polyphenols and proanthocyanadins it also provides added oxidative protection, combatting premature aging.
It also has a stimulating effect on the skin, increasing circulation and cell turnover, rapidly renewing collagen and reducing the appearance of fine lines.
Apply a pea sized amount on skin after cleansing and toning.
Massage well in upward and circular motions.
Can also be layered on top of a face serum.
*Aloe Vera Leaf Juice (Aloe barbadensis), *Glycerin, Acetyl Hexapeptide-8 (Argireline), Squalane, Sodium PCA, *Pracaxi (Pentaclethra macroloba) Oil, Carbomer, Rhodiola (Rhodiola rosea) Root Extract, L-Carnitine, Alpha Arbutin, Sodium Phytate, Roman Chamomile (Anthemis nobilis) Distillate, Lactic Acid, Neem (Melia azadirachta) Extract, Ivy Gourd (Coccinia indica) Extract, Seaweed (Corallina officinalis), Triethanolamine, Caprylhydroxamic Acid, Glyceryl Caprylate. *from organic farming