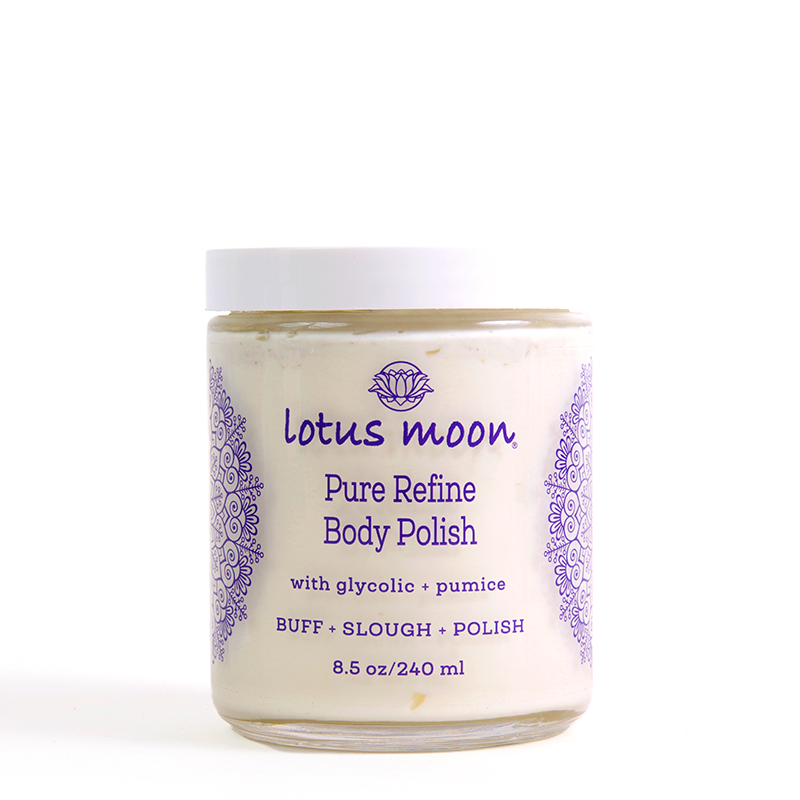 Pure Refine Body Polish - All Natural Body Scrub For Dry Skin
Not all body polishes are created equal.
Show your body the love it deserves with this spa-strength body polish.
Pure Refine contains 4% glycolic to exfoliate dead skin cells, and is scented with a citrus blend of essential oils to awaken the senses and is enriched with moisturizing shea butter and aloe vera.
DESCRIPTION

HOW TO USE

INGREDIENTS
In order for the antioxidants to work to their magic, pumice and glycolic acid are used to exfoliate dull, dead skin – giving an open pathway to the antioxidants to do their J-O-B of fighting free radicals.
This means the dull skin that visibly ages our skin will be wiped clean and the antioxidants which promote healthy skin will more effectively protect skin against environmental stressors.
Ideal when used in combination with Pure Silk Body Creme.
It's best to use a body scrub two to three times per week to keep your skin soft and smooth from head to toe.
Here's how to make it part of your body care routine:
While the shower is heating up or the bathtub is filling, apply scrub all over onto dry skin.
Apply the scrub in circular motions; start at your feet and move upwards towards your heart to enhance circulation.
Maintain gentle pressure (don't scrub too hard!) Now you're ready to step into shower or bath. Rinse.
Once finished bathing, pat your body dry...
Apply Pure Silk Body Creme all over while your skin is still slightly damp.
While relaxing, massage feet with Heel The Sole.
REMEMBER to apply to the décolletage, elbows, knees, heels – anywhere that needs extra buffing. If your skin only needs slight buffing, add a little to the palm of your hand with you favorite liquid body wash, mix well in your hand and apply to your skin.
Aloe barbadensis (Organic Aloe) Juice, Elaeis guineensis (Organic Palm) Oil, Prunus armeniaca (Apricot) Kernel Oil, Emulsifying Wax, Palm Stearic Acid, Pumice, Glycolic Acid, Vegetable Glycerin, Tocopherol (Vitamin E), Extracts of: Camellia sinensis (Organic Green Tea), Vaccinium myrtillus (Organic Bilberry), Saccharum officinarum (Organic Sugar Cane), Acer saccharinum (Organic Sugar Maple), Citrus auranium dulcis (Organic Orange), Citrus medica limonum (Organic Lemon), Vaccinium macrocarpon (Organic Cranberry), Sorbic Acid, Tartaric Acid, Malic Acid, Mangifera indica (Mango) Butter, Butyrospermun parkii (Organic Shea) Butter, Xanthan Gum (Polysaccharide Gum), Salix alba (Willow Bark) Extract, Azadirachta indica (Neem) Oil, Rosmarinus officinalis (Rosemary) Extract, Citrus paradisii (Pink Grapefruit) Essential Oil, Phenoxyethanol, Caprylyl Glycol.