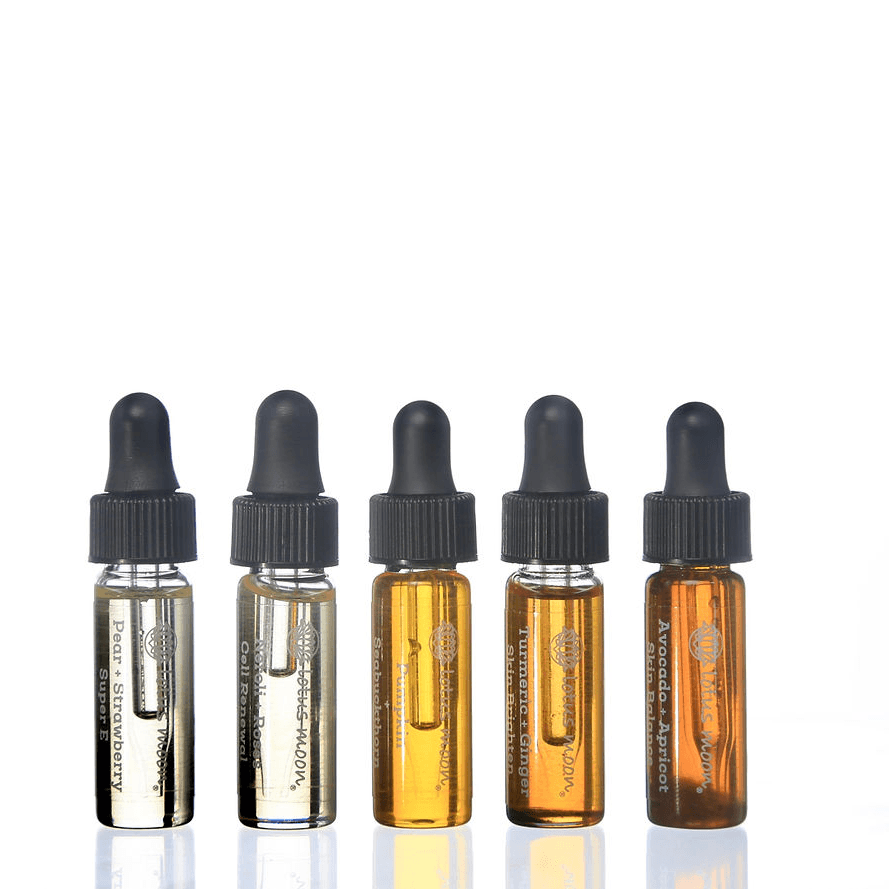 5-Piece Beauty Oil Sampler
⭐️⭐️⭐️⭐️⭐️ "I need to be more methodical with using one sample per week so to speak, to determined which one benefits my skin the most. But, all feel great on the skin, easily absorb and smell great too, a plus! I'll definitely be choosing one or more!" - Lee S.
Can't decide which oil is right for you?
Give our sampler a try.
DESCRIPTION

RITUAL

INGREDIENTS
The 5-piece sampler includes:
Avocado + Apricot - 1/8 oz
Pear + Strawberry - 1/8 oz
Pumpkin + Seabuckthorn - 1/8 oz
Turmeric + Ginger - 1/8 oz
Neroli + Roses - 1/8 oz
Each vial is  enough for approximately 3-5 applications.
Samples are designed to give you an idea of the texture, scent and skin compatibility, in addition allowing you to test for any sensitivities you may have to any of the ingredients.

Our 5-piece Beauty Oil Sampler is a great way to find the right beauty oil for your skin type.
These are refillable, making them great for travel!
When purchased separately = $68
The key to using face oils and actually getting benefits from them is choosing the right oil (or blend of oils) for your skin type or condition. The oils are formulated for aging, dry, oily and sensitive skin types.

AGING/MATURE

As we age, our skin produces less oil, which means our skin gets dried out more easily. This, for many women, exaggerates the look of wrinkles. Plant oils can slow down the formation of wrinkles because they contain antioxidants and pass through the skin quickly, preventing water loss and keeping the skin plump. Antioxidants boost collagen production and strengthen skin elasticity, thus reducing fine lines. You may want to use a serum first such as Skin Boost Peptide Elixir, followed by a beauty oil.
Best oils for aging skin: Argan, prickly pear, rosehip seed


DRY/FLAKY
Whether our dry, parched skin is weather dependent or a year-round concern, our plant-based beauty oils can be part of the remedy. Quick-absorbing, nutrient-rich face oils help to deeply moisturize and smooth your skin. For dehydrated skin, you may want to use a hydrating serum first, such as our Hyaluronic Intensive, followed by a moisturizing oil to lock in all of the benefits of the serum.
Best oils for dry skin: Grapeseed, apricot, jojoba


OILY/ACNE-PRONE
Overly stripping oily skin in an attempt to get rid of oily shine actually causes our skin to produce more oil to compensate, creating a vicious cycle. Certain oils can actually help balance our skin's oil production, get rid of excess oil on our face and minimize the appearance of pores. Certain oils can dissolve excess sebum and remove grime and fats from pores, thus minimizing their appearance.

Master Esthetician, Adina Diaz, also recommends using an oil-based cleanser to help rid our skin of makeup, pollutants, dead skin cells and other impurities. Our C+C Cleansing Balm is a perfect choice for removing makeup, then follow up with our Amaranth Gentle Cleanse. She suggests choosing a cleanser that is hypoallergenic, non-comedogenic and designed for sensitive skin for the best results.
Best oils for oily/acne-prone skin: jojoba, neroli


SENSITIVE/IRRITATED
Free radical–fighting antioxidants also protect your skin and combat future damage by reducing cellular oxidation, one of the processes by which skin ages. By tackling free radicals, products like those containing rosehip seed oil or those with a high vitamin E content protect against and reduce damage from the sun. (But, no, they don't block UV rays.) Be sure to apply sunscreen after massaging a few drops of face oil onto your skin in the morning. Face oils have anti-inflammatory properties, which means they can calm the skin and reduce rashes.

Best oils for sensitive skin: jojoba, avocado, grapeseed  
Add a few drops to the palm of your hand and a few drops of water to give greater spreadability and absorption. Massage hands together and gently massage onto face.
Apricot + Avocado
Vitis vinifera (ORGANIC Grapeseed) Seed Oil, Persea gratissima (ORGANIC Avocado) Oil, Prunus armeniaca (ORGANIC Apricot Kernel) Oil, Olea europea (ORGANIC Olive) Oil, Calendula officinalis (ORGANIC Calendula Flower) CO2, Boswellia carteri (Frankincense) Oil, Matricaria recutita (ORGANIC German Chamomile) Oil. 
Pear + Strawberry
Simmondsia chinensis (ORGANIC Jojoba) Seed Oil, Opuntia ficus indica (ORGANIC Prickly Pear) Seed Oil, Fragaria ananassa (Strawberry) Seed Oil, Pelargonium graveolens (ORGANIC Geranium) Essential Oil, Cananga odorata (ORGANIC Ylang Ylang) Essential Oil, Lavender, Origanum majorana (ORGANIC Sweet Marjoram), Melissa officinalis (ORGANIC Lemon Balm).
Pumpkin + Sea Buckthorn
Simmondsia Chinensis (ORGANIC Jojoba) Oil, Adansonia Digitata (ORGANIC Baobab) Seed Oil, Cucurbita Pepo (ORGANIC Pumpkin Seed) Oil, Hippophae Rhamnoides (Seabuckthorn) Berry Oil, Argania spinosa (ORGANIC Argan) Oil.
Turmeric + Ginger
Simmondsia chinensis (ORGANIC Jojoba) Seed Oil, Vitis vinifera (ORGANIC Grapeseed) Oil, Curcuma longa (ORGANIC Turmeric) Oil, Manjistha (Rubia cordifolia) CO2, Zingiber officinale (ORGANIC Ginger) Root Oil, Boswellia carteri (ORGANIC Frankicense) Oil, Santalum spicatum (ORGANIC Sandalwood), Citrus sinensis (ORGANIC Orange Fruit Peel) Oil.
Neroli + Roses
Simmondsia Chinensis (Organic jojoba) Oil, Rosa canina (Organic Rosehip) Seed Oil, Lavandula officinalis (Organic Lavender) Oil, Citrus aurantium (Organic Neroli) Oil, Boswellia carteri (CO2 Frankincense) Oil, Rosa damascena (Organic Rose) Oil, Cananga odorata (Organic Ylang Ylang).