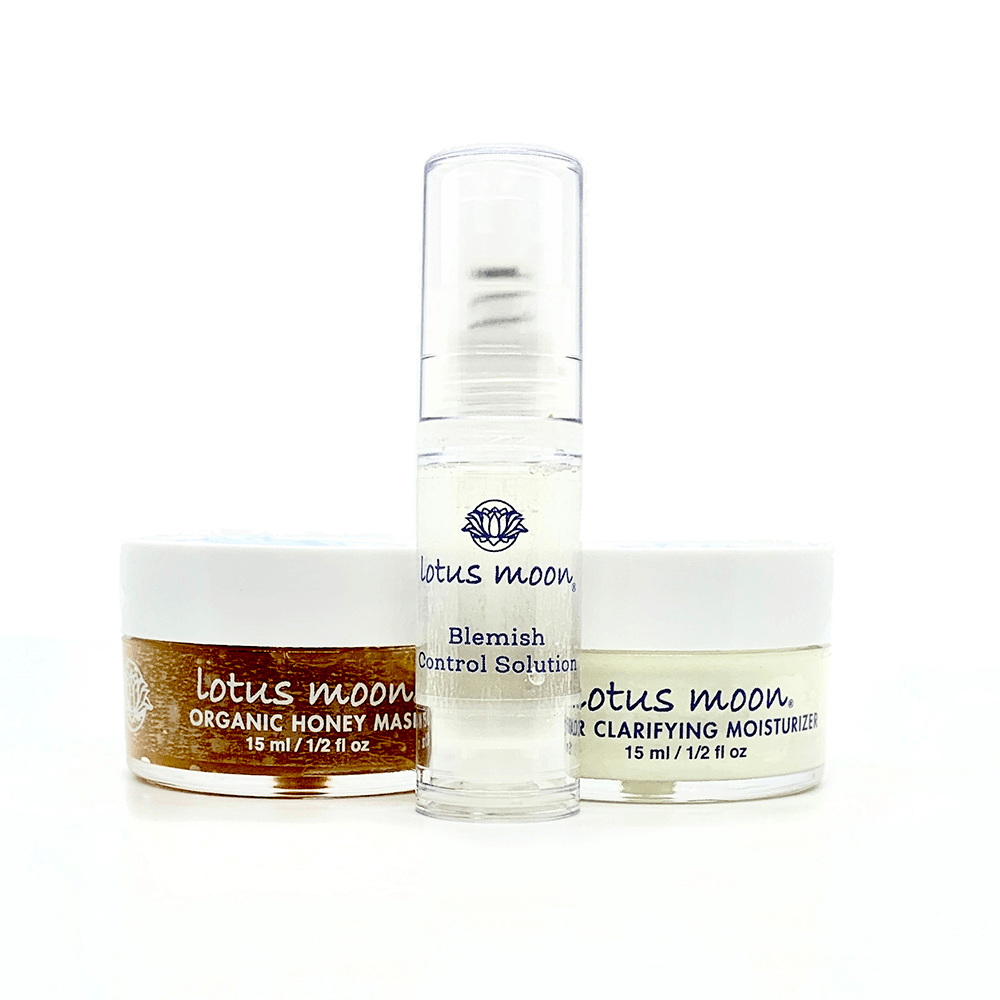 Calm Skin Deluxe Mini Trio
DESCRIPTION

RITUAL

INGREDIENTS
Along with the changes all skin naturally goes through, due to hormonal fluctuations or stress, we may begin to experience chin and jawline breakouts in our 30s, 40s, 50s and beyond.
But now, we are seeing other skin conditions occur due to frequent mask wearing called "maskne," -- acne that is caused because the mask traps dirt and oil in pores. This can lead to blackheads and breakouts.
This can occur when sweat, the oils from our skin and bacteria are trapped while wearing our mask all day. It can cause irritation by rubbing against the skin which can damage the skin's protective barrier, so using products that will strengthen the barrier will help.
In women it is often linked to hormonal factors, including the menstrual cycle. Under the skin congestion may be present at the side of the chin: these may turn into papules or pustules at the end of menstruation.
This deluxe mini trio is a great way to try out the process to see if it will work for you.
THIS SET INCLUDES:
1 mini spatula
1 organic honey mask (1/2 oz)
1 sulfur clarifying moisturizer (1/2 oz)
1 blemish control solution (5 ml)
***********************************************
EASY 3-STEP PROCESS
Step 1: After cleansing and toning mix together a dime size of Honey Mask with Sulfur Clarifying Moisturizer
Step 2: Apply to chin/jawline for 20-30 minutes or even longer (can be left on overnight) - watch a favorite show or read a book. Rinse off.
Step 3: Apply a thin layer of Blemish Control Solution all over chin/jawline where breakouts usually appear (even if no breakouts are currently present). Let dry and pat on your regular moisturizer, (Vitamin B Hydrating Gel might be a good one) don't rub.
Repeat 2-3 nights a week or more often if needed. Can also be used on other areas prone to breakouts.
Keep in mind that hormonal acne, in particular, isn't zapped away by topically applied products alone.
Although topical treatments and doctor-prescribed medications are often our first choice of defense, there are other lifestyle choices that also need to made.
We can add solutions that naturally combat acne into our daily regimen. In addition, it's important to develop an acne-fighting lifestyle. 
READ our post on chin and jawline breakouts here.
Honey Mask: 
ORGANIC Honey, Aspalathu lineans (ORGANIC Rooibos Tea) Extract, Aloe barbadensis (ORGANIC Aloe) Juice, Xanthan Gum (Polysaccharide gum), Simmondsia chinensis (ORGANIC Jojoba) Oil, Tocopherol (Vitamin E), Avena sativa (ORGANIC Oat) Extract, Rosmarinus officinalis (ORGANIC Rosemary) Oleoresin, Azadirachta indica (ORGANIC Neem) Extract.
Sulfur Clarifying Moisturizer: 

Aloe Barbadensis (ORGANIC Aloe Vera) Juice, Cocos Nucifera (ORGANIC Coconut) Oil, Colloidal Sulfur, Aspalathus Linearis (ORGANIC Rooibos Tea) Extract, Olea Europaea (ORGANIC Olive) Oil, Emulsifying Wax, Vegetable Glycerin, Palm Stearic Acid, Hamamelis Virginiana (Witch Hazel), Camellia Sinensis (ORGANIC Green Tea) Extract, Urtica Dioica (ORGANIC Nettle Leaf) Extract, Stellaria Media (ORGANIC Chickweed) Extract, Ulmus Fulva (ORGANIC Slippery Elm) Extract, Silybum Marianum (ORGANIC Milk Thistle) Extract, Althea Officinalis (ORGANIC Marshmallow Root) Extract, Avena Sativa (ORGANIC Oatstraw) Extract, Aphanizomenon Flos-Aqua (ORGANIC Blue Green Algae), Tocopherol (Vitamin E), Xanthan Gum (Polysaccharide Gum), Salix Alba (White Willowbark) Extract, Rosmarinus Officinalis (Rosemary) Oleoresin, Azadirachta Indica (Neem) Oil.
Blemish Control Solution: 
Aloe barbadensis (ORGANIC Aloe Leaf) Juice, Salicylic Acid, Vegetable Glycerin, Glycolic Acid, Hydroxyethyl Cellulose, Ascorbic Acid (Vitamin C), Niacinamide (Vitamin B3), Atlantic Sea Salt, Lavandula officinalis (Lavender) Essential Oil, Mentha piperita (Peppermint) Essential Oil, Sodium Benzoate, Gluconolactone.