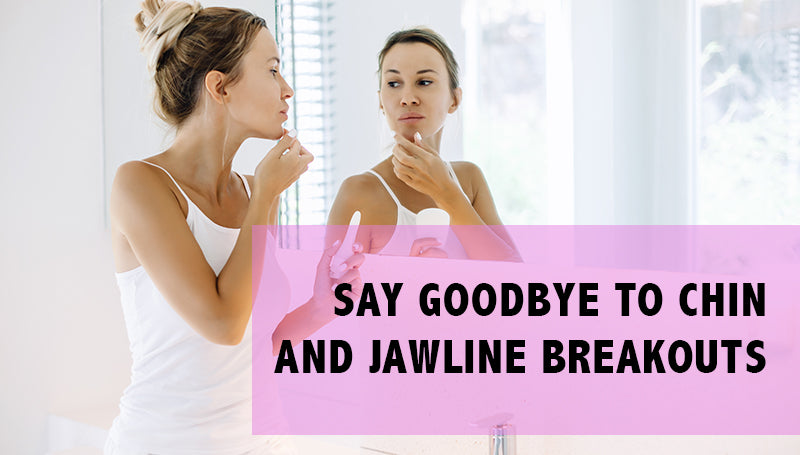 Say Goodbye to Chin and Jawline Breakouts
Acne—it's a reality we thought would pass with puberty. But for many women, it's an issue that continues to confound and confine us as we age. Hormonal imbalance is often at the center of it.

The decrease in estrogen and increase in testosterone boost oil production that, mixed with other factors, lead to clogged pores. As a result, we can be dealing with acne well into our 30s, 40s, 50s and beyond.

Researchers have confirmed that adult females are more affected than men in all age groups and that acne can persist even after 50 years of age. Well, if that ain't a kick in the pants!!

There are a few different factors that can contribute to chin or jawline breakouts. This area, like the forehead can be linked to diet, intolerances and digestive problems. In women it is often linked to hormonal factors, including the menstrual cycle.

Under the skin congestion may be present at the side of the chin: these may turn into papules or pustules at the end of menstruation.

Hormonal shifts can stimulate oil production which leads to an increase of bacteria getting trapped in the pores resulting in pustules and cystic pimples. If we are using any makeup or moisturizers that contain dimethicone or other silicones, this can further exacerbate the issue.

Along with the humectant properties of dimethicone, it is also occlusive, which essentially means to block. Occlusive ingredients physically block TEWL (trans epidermal water loss) by forming a hydrophobic film on the skin surface. Thus, keeping dry skin hydrated for longer.

However, my conclusion is that if it is trapping water from escaping, then it must also be trapping sweat and bad bacteria from escaping as well, which can lead to clogged pores, skin irritation which inevitable leads to inflammation. You get the picture.

The results can be sore, painful acne, pustules and cystic blemishes.
Hormone imbalances can develop for a multitude of reasons, including: increased stress levels, menstrual cycles, pregnancy, menopause, and even Polycystic Ovary Syndrome (PCOS).
Here's our 3-step skincare treatment that synergistically clears breakouts fast and prevents new ones from appearing.
EASY 2-STEP PROCESSStep 1:
After cleansing and toning mix together a dime size of
Honey Mask
with
Sulfur Clarifying Moisturizer
and apply to chin/jawline for 20-30 minutes or even longer (watch a favorite show or read a book). Rinse off.
Step 2:
Apply a thin layer of
Blemish Control Solution
all over chin/jawline where breakouts usually appear (even if no breakouts are currently present). Let dry and pat on your regular moisturizer, (Vitamin B Hydrating Gel might be a good one) don't rub.
Repeat 2-3 nights a week or more often if needed. Can also be used on other areas prone to breakouts.
Keep in mind that hormonal acne, in particular, isn't zapped away by topically applied products alone. Although topical treatments and doctor-prescribed medications are often our first choice of defense, there are other lifestyle choices that also need to made.
We can add solutions that naturally combat acne into our daily regimen. In addition, it's important to develop an acne-fighting lifestyle.
NUTRITION
Diet and nutrition is one of the most proactive solutions available. The nutrients we ingest have the ability to combat both acne's effects and stimulants. But we must be intentional to reap the rewards.
Diets high in meat and dairy products stimulate acne production because these mimic the hormones that trigger the skin's oil production, thus starting the acne process. There are more sebaceous glands in the face. The sebaceous glands hold the sebum.
Explore the multitude of dairy alternatives and substitute refined carbs with scrumptious replacements. If we let our plant foods outnumber the red meat on our plate, we may eventually find that we enjoy our meals without it.
If we intentionally add to our diets ingredients that are rich in antioxidants (protection), omega-3 (hydration) and zinc (anti-inflammation), we will reap healthy skin. And the effort can be as simple as a homemade green smoothie.
Here are 7 of my favorite smoothie recipes to get you started.
One thing to be aware of though when making smoothies, don't try to blend everything-but-the-kitchen-sink into a single smoothie. A good rule of thumb is: For green smoothies, mix: greens and fruits only… for protein smoothies use your nut milks, protein powder and fruits.
Greens need different digestive enzymes than nuts and root vegetables and when blended together can wreak havoc on the digestive system. And when the digestive is out of whack the health of the skin will follow.
STRESS REDUCTION
Stress triggers acne. It releases cortisol, which produces excess oil. So, an anti-acne lifestyle requires that we consciously counter stress. Here are five simple choices we can make daily to help keep both stress and acne at bay.
1) See the positive in every situation.
2) Rest—whether in the form of sleep or play.
3) Exercise. Find something that works for you and do it.
4) These 8 Yoga Poses each night before bed.
5) Meditate. Try this 3-minute technique.
I know this is a lot to digest, so just take it one day at a time. And remember to BREATHE.
Editorial Sources and Fact-Checking
1. J Clin Aesthet Dermatol. 2014 May; 7(5): 36–44.
Moisturizers for Acne - What are their Constituents?
2. An Bras Dermatol. 2019 Jan-Feb; 94(1): 62–75.
Adult female acne: a guide to clinical practice